Welcome to Doc's Corner Pocket
From the Basics to Advanced Strategies
by Raymond "Doc" Rogers

The link below will open my book "How To Play Pool". I hope this book will help you all to play better. It includes something for everyone, from beginners to seasoned players. The illustrations and pictures are easy to follow and explain the theories and strategies of winning pool play. It will also explain the use of english, how to use and when to use it. It explains banks, kick shots, and discusses the All Important "Natural Angle". At the bottom of this page I will have lessons to learn, a new one every session!
Enjoy and and have many great games of pool!



How to Play Pool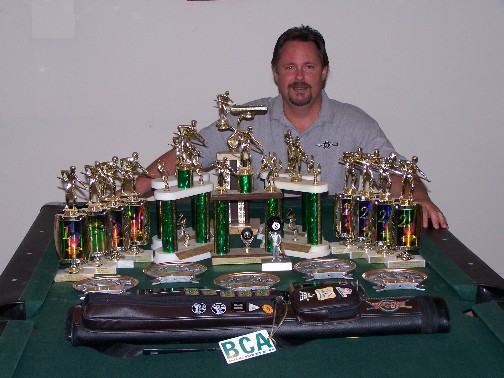 This Session's Lesson

Tranference:
Each time two balls hit each other, some degree of Transference occurs. If one ball is moving and the other is standing still, then when they collide power from one ball is transferred to the other and the ball standing still now has power to move some distance. Well the same applies to english! When english is applied to the cue ball, during the collision the cue will transfer some of that english to the other ball. However it will be the opposite english! For example, If I put bottom english on my cue ball it will transfer top english to the object ball. See below: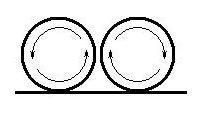 So with this in mind imagine the picture above instead of being a side view of the transference imagine it was a top view!. I can transfer left or right english to an object ball!! This can come in very handy when trying to bank a ball that can not be made using the natural angle for that bank!!
Using the picture below, we can see the natural bank to the corner pocket is blocked by the black ball, but with a little bit of left english on the object ball we can 'throw' it into the corner pocket!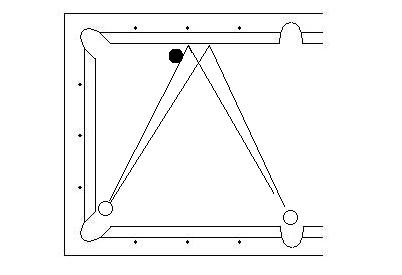 So, by putting RIGHT english on the cue ball, I can transfer LEFT english to the object ball and 'throw' it into the pocket!