This page dedicated to all of our current & former champions!
Summer 2018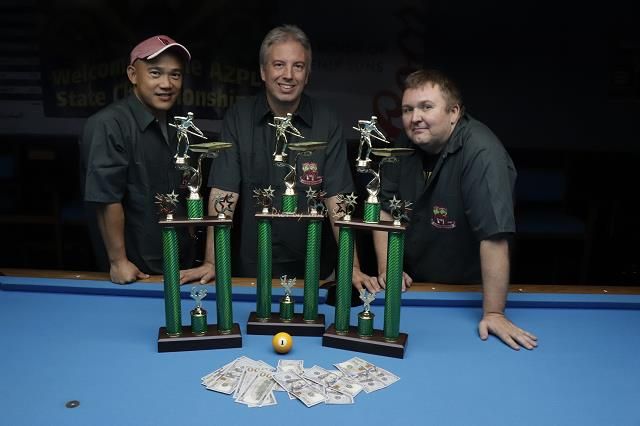 Congratulations to Chad Hibbard, Thoi Truong & Michael Kerin of The Devil's Let Us from the Q n Brew in Tempe! Starting at 11am on Saturday they went 7-1 including 6 in a row on their way to winning the 2018 AZPL Summer State Championships!! Their only loss against Capt P B Morgan being decided on wins as the scores were tied!
Spring 2018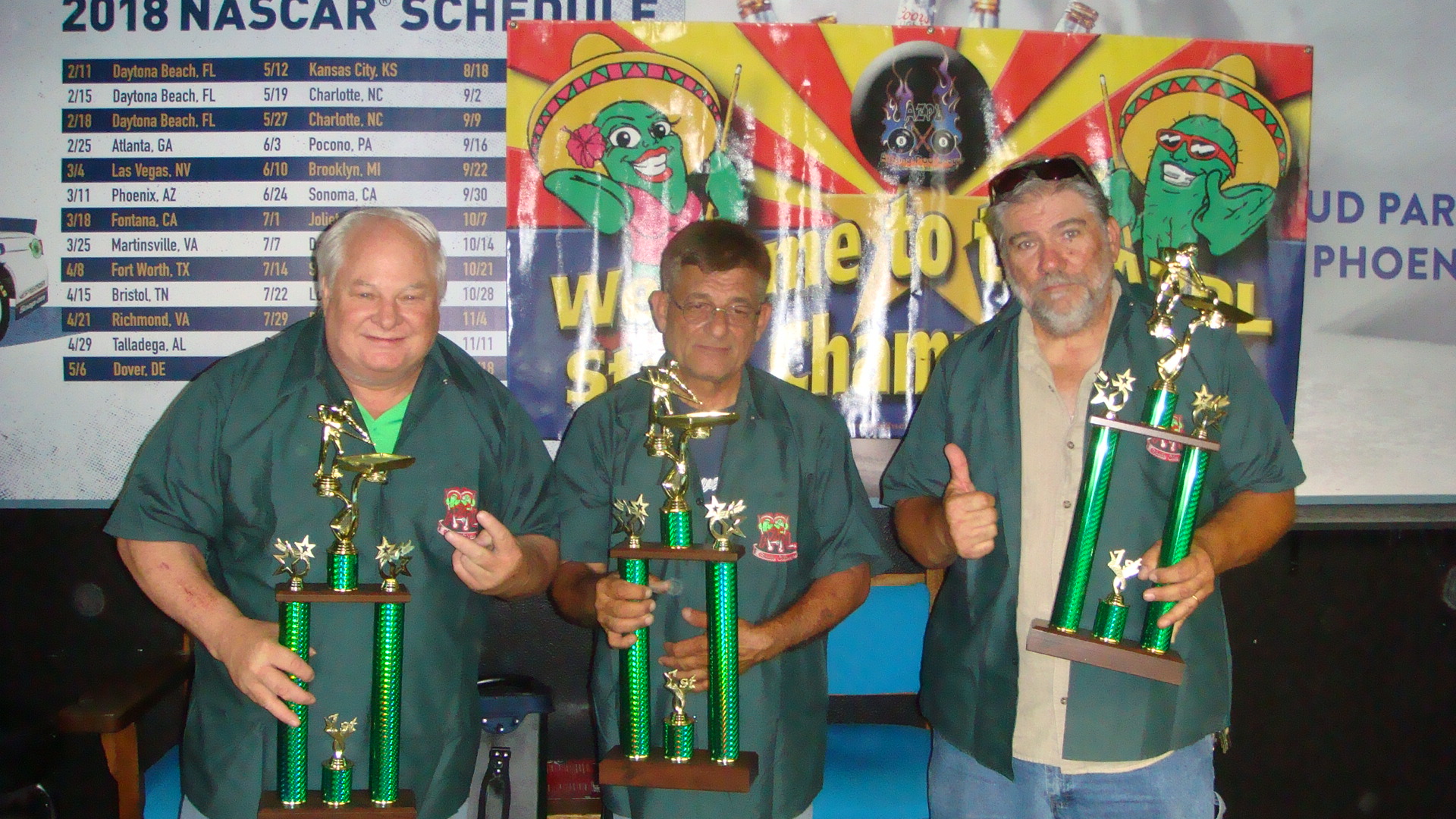 May the other John Ilk please stand up! While John's team the Bus Drivers II came in first in the league it was all about Old School at the AZPL's State Championships at Skip & Jan's! Congratulations to John Ilk, Dave Webb & Ralph Gibson of Old School from the Q n Brew in Tempe! They went 5-0 against No Name, Show Me the Money, Just Shoot and Hold My Beer to win $750 then beat the Dawg Slippers to win another $750, the trophies and the Green Shirts!
Fall 2017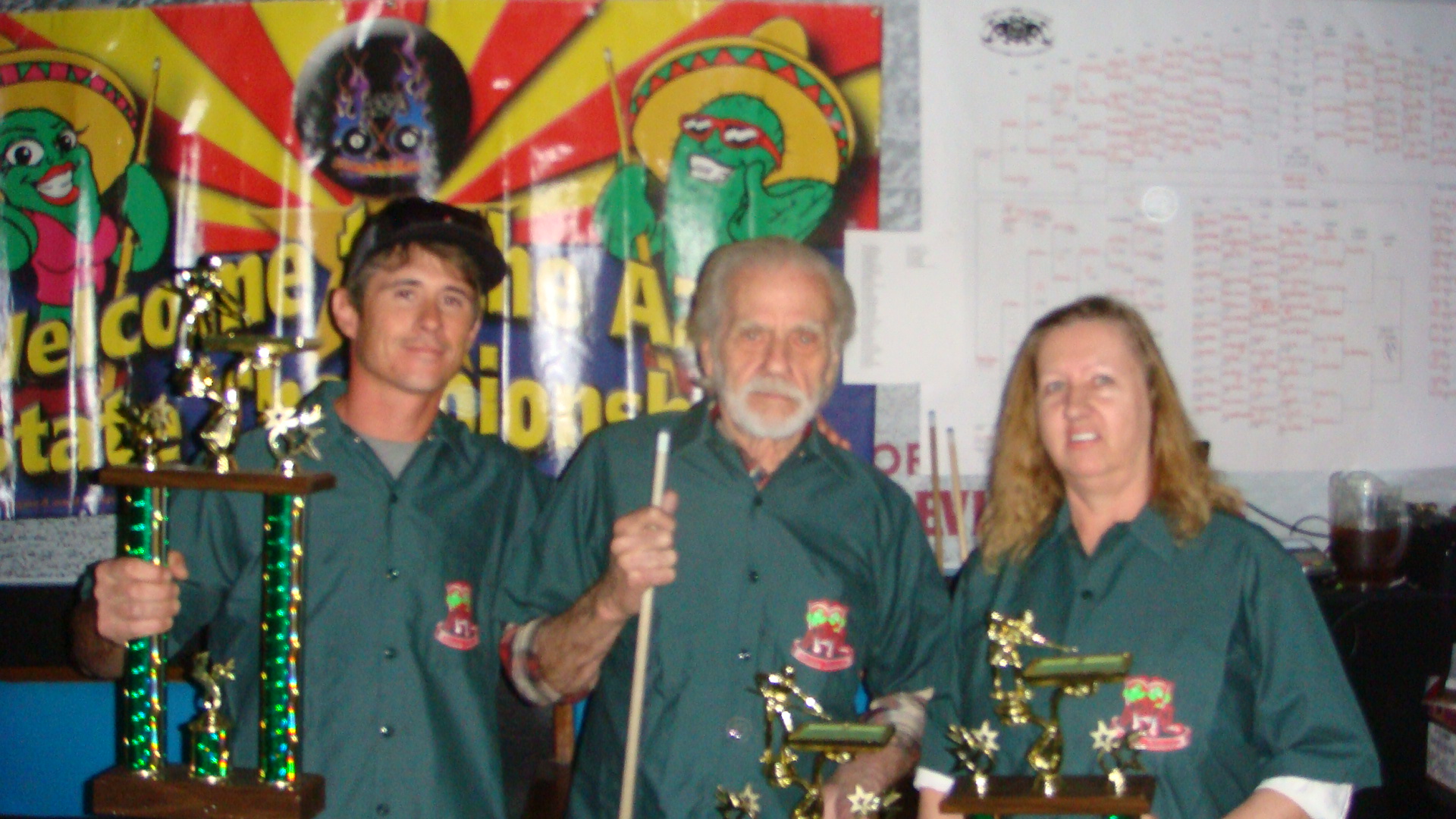 Congratulations to Harold Lyons, Laura Boothroyd & Percival Jauregui of Good Times from the Q n Brew in Tempe! They went 4-0 to win $750 in the Top 16 bracket and defeated Never 2nd in the championship match for another $750! They are the 2017 AZPL Fall State Champions! This is Harold & Laura's 4th championship and PJ's 1st green shirt! They defeated the Come Back Kings, Long Shots, Old School, Doc's Gang and Never 2nd to win it all!
Summer 2017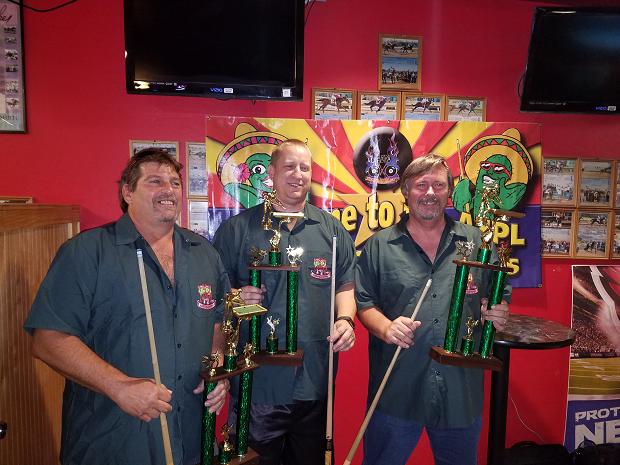 Number One in four matches! Congratulations to Mike Simonelli, Calvin Balcom & Doc Rogers of Doc's Gang from Stinger's Sports Bar! They defeated Ballz in Hand of 2 Lanes Saloon in Globe, D-M2 also of 2 Lanes Saloon and Double Kung Pao with White Rice twice to win the Championship, $1,500 and the new Championship shirts!! This was Doc's 3rd try at a championship since winning it all back in the Spring of 2006 with Perfect Storm. Heading into Championship weekend they were ranked number 1. Over the weekend the league MVP went 8-1 allowing just 41 points in those games. His .889 winning percentage was tops in the tourney!
Spring 2017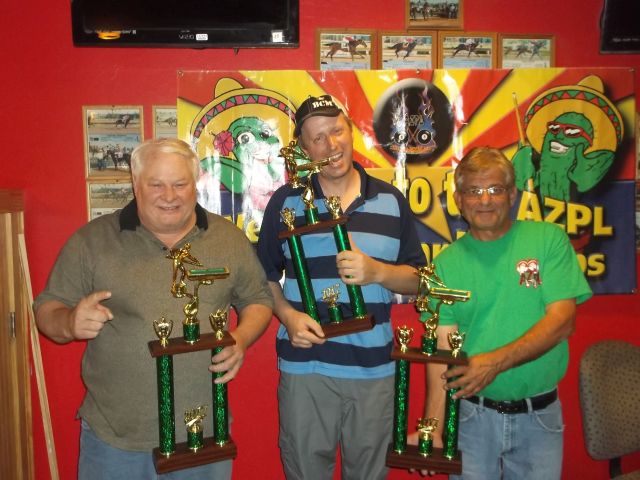 Congratulations to Dave Webb, Scott Hudson & John Ilk of the Bus Drivers from Jester's Billiards in Gilbert! Starting at 1pm in the 16th seed on Saturday they went 7-0 to win the AZPL State Championships as well as $1,500 at Stinger's Bar & Grill in Glendale!
Fall 2016 Team FREE Money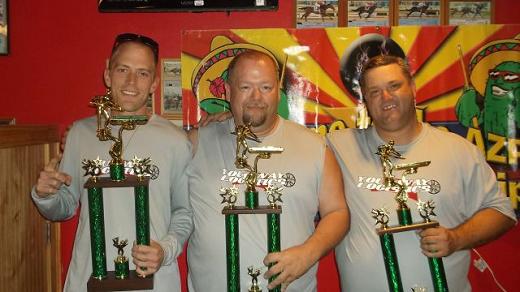 Congratulations to Steve Blackburn, Chad Barber & Ben Sutherland of Team FREE Money from Stinger's! They beat Bill McGavisk, James Main & Larry Eans of Kathy's Boyz, also from Stinger's twice, once to close out the winner's side and the second time in the Championship match, to take their 2nd consecutive AZPL State Championship, $229 in point money and $1,500 in the Championships!!!
Summer 2016 DILLIGAF? BOHICA!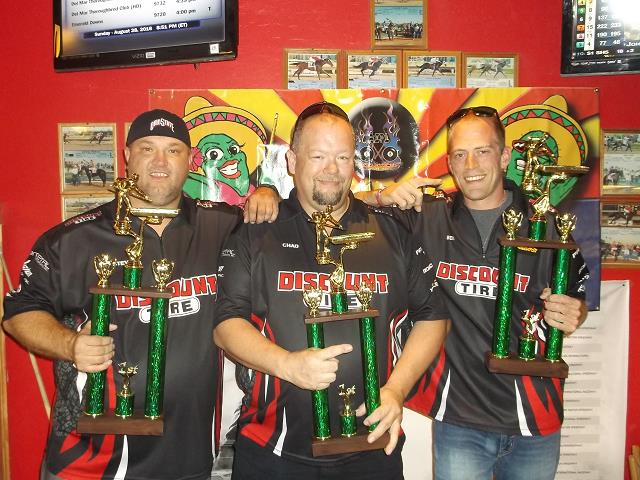 Spring 2016 Chicken Dicks
Fall 2015 No Name
Summer 2015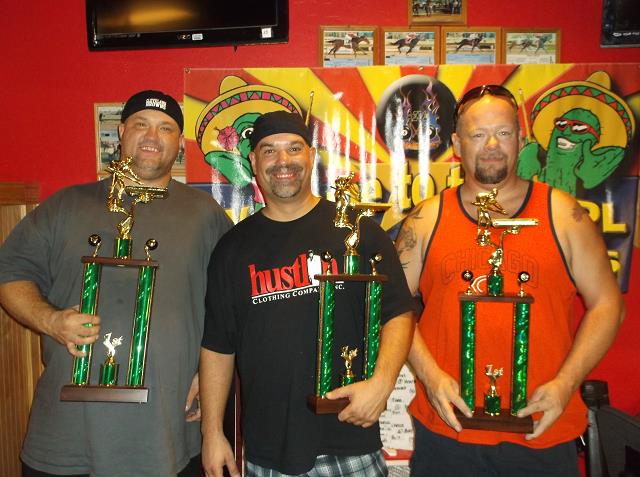 BOHICA
Congratulations to Steve Blackburn, Jason Burkhart & Chad Barber of BOHICA from Stinger's Bar & Grill! They are the AZPL Summer 2015 State Champions!!! They went 4-0 against ATTA Girl, the Pinal County Ringers, No Name and ATTA Girl again to go undefeated and win the Championship along with $1500!! Championship MVP Ryan Levengood of ATTA Girl went 21-6 with 3-30s and 227 points for a Power Rating of 3.555!! Ryan outscored his opponents 227-149 to lead the league with a 78 point differential.
In the Championship game ATTA Girl took a 30-9 lead after the first round holding Jason & Steve to a combined 9 points and shutting out Chad. Jason returned the favor going 10-0 in his second game followed by a win by Steve. After a 10-6 win by ATTA Girl to finish the 2nd round BOHICA was down 51-35. Jason & Steve led off the 3rd round with a pair of 10-0s to finish off ATTA Girl and claim their first AZPL Championship and $1500!! Scott Gwilliam, Ryan Levengood & Chris Negrin of ATTA Girl of Jester's in Gilbert finished in 2nd place to take $1000! Third place and $850 went to Kip Anderson, Gary Wimmer & Eric Menard of No Name from Stockman's in Flagstaff.
The fun began Friday night at Stinger's Sports Bar & Grill with 8-Ball Break & Run Derby, the Scotch Doubles/Singles Tournament, the Big Money Singles Tournament and the Wild Card Tourney. Three teams showed up for the Wild Card Tournament and all three got bumped in due to two teams opting out so it just goes to show you that showing up is half the battle for the Wild Card! Congrats to the Pinal County Zingers, Ho Lee Chit & The Four Horsemen! The Zingers won their first 3 matches before being sent to the loser's side where they won one before being eliminated.
There were 31 players signed up in the 8-Ball Break & Run Derby contest! Finishing in first was Francisco Serrano who won $180 and $3 off his weekly dues! Second place went to Bill McGavisk who won $115 and gets to take $2 off his weeklies. Jason Burkhart finished in 3rd with $35 and $1 off his weekly dues!
In the Scotch Doubles/Singles Tournament 50 players signed up. Getting randomly drawn, Harold Lyons & Francisco Serrano paired up to win five matches to win the hot seat. Ryan Levengood & Madalynn Alvarado played out on the singles side to team up in the final match to take on eventual champs Harold & Francisco. 1st place took $375, 2nd took $260 and the top two singles, Eugene Hemphill & Jason Burkhart, each took $55.
We tried something new this season, the Big Money Singles Tournament, and I'd like to say it was a success. Out of 16 spots we had 13 players sign up on Friday. Over the course of 3 days this tournament raised $1,100 to pay out $550 for 1st place, $375 for 2nd and $175 for 3rd. Kip Anderson went 28-24 to win 5 of 6 matches to take first place! Second place went to Brady Williams who went 40-24 but went 6-2 overall. Ryan Levengood finished in 3rd at 27-18 to go 3-2. Brady Williams was the statistical leader of the Big Money tourney scoring 513 points while allowing 402 for a 111 point differential. Francisco Serrano lead the tourney with a .720 winning percentage on an 18-7 record and 4 30-point games. Ryan also had 4 30s. Mark Klein hit 2 8-ball breaks. Brady & Ryan both had 4 10-0s as well.
On Saturday the longest winning streak went to No Name who went 5-0 before losing to the eventual champion. Reconstruction went 5 in a row on the loser's side before being eliminated by Tough Times on Sunday. They also scored the most points in the tourney with 660. ATTA Girl had the most wins with 48. BOHICA went 23-10 to lead the tourney in winning percentage with a .697 average. Darryl Ulibarri, Mike Chapa & Rick Meredith each hit a pair of 8-ball breaks over the weekend. Six other players hit 8-ball breaks as well! Anthony Begay of Reconstruction scored the most points with 232. Dave Webb of the Hamboozers scored 103 of 110 possible to lead the tourney in scoring percentage with a .936 mark. Joe Zack was second, scoring .930 of his balls possible. Dave also led the league in winning percentage with a .909 mark on a 10-1 record and a 28.09 match average! Gary Wimmer of No Name tied for the tournament lead in 30-point games with 3! Rick Albertson went 4-1 to shoot a 26.40 match average and lead the tourney in most improved player, shooting over 9 points over his career average! Next in line was Derrick Tutt who shot 4 points over his match average over 4 matches to go 7-4 with a 25.09 MA.

Spring 2015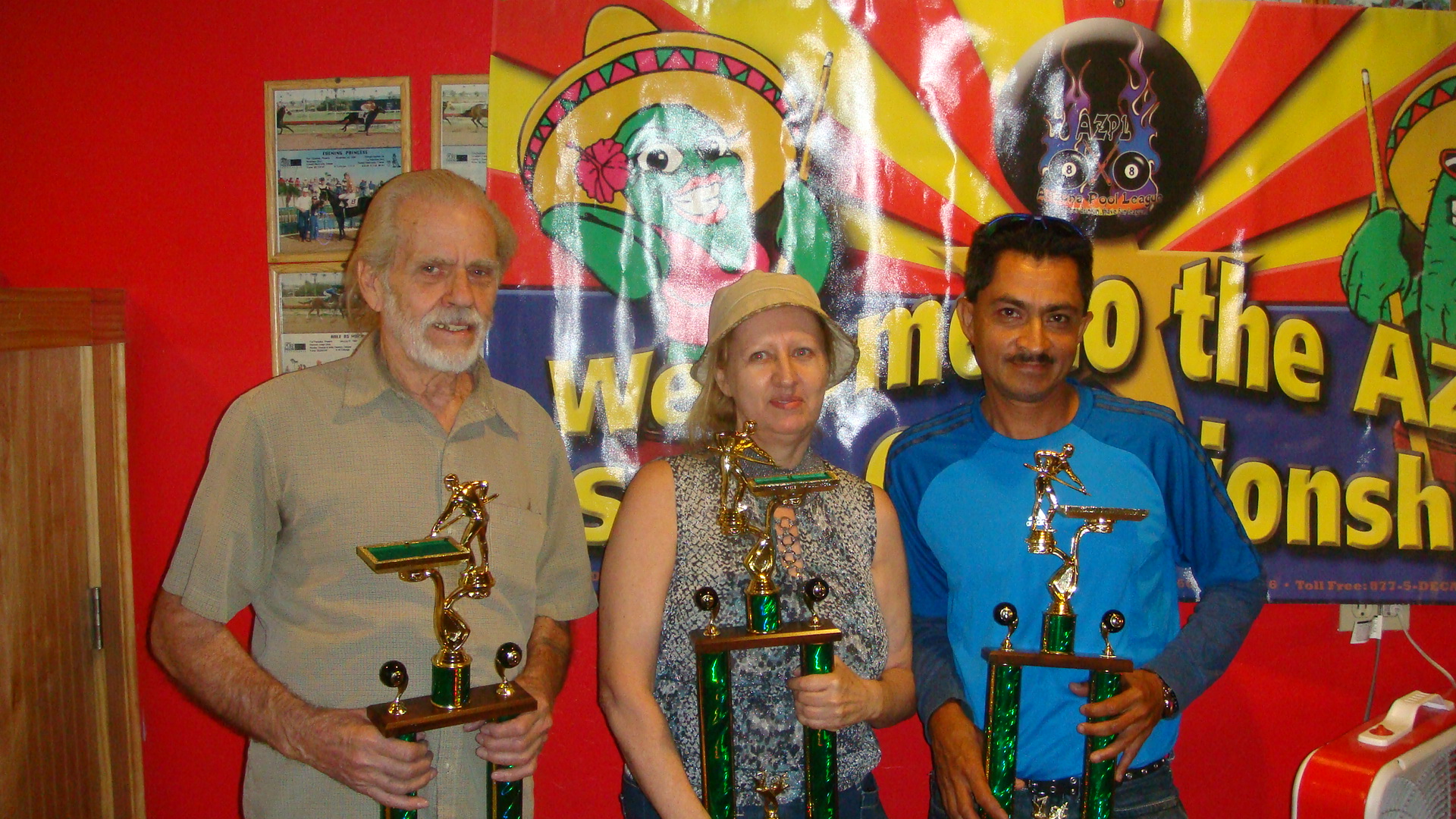 K.A.T.
Congratulations to Harold Lyons, Laura Boothroyd & Francisco Serrano of K.A.T. from the Q n Brew in Tempe! They are your 2-1/2 time AZPL State Champions! Coming in as the number 4 seed they defeated Slate Slayers, Doc's Gang & Cash Money to win out the winner's side and Shaft Soooo Smoove to close out the Championships with a 4-0 record and win $1500. Francisco Serrano led the team with a 9-2 record, 102 points and 2 30s for a 1.962 PR in 4 matches. Shaft Soooo Smoove – Ryan Levengood, Chris Negrin & Brandon Hinners - took $750 for 2nd.
It was a great weekend at Stinger's Sports Bar of Glendale. On Friday there were 32 players entered into the Scotch Doubles/Singles Tournament with Stinger's matching 50%! Brady Williams & Bill McGavisk went 5-0 to finish in 1st and win $192! 2nd place went to Doc Rogers & Mike Atherholt who were the last two singles standing and they split $144. Chris Negrin & Francisco Serrano finished in 5th & 6th on the singles side to win $48 each.
Thirty-one players participated in 8-Ball Break & Run Derby. Of those, Harold Lyons finished in 1st to win $165 and get $3 off his weekly dues! Second place, $105 and $2 off his weekly dues went to Ben Sutherland. Pete Williams claimed 3rd place winning $30 and a buck off! See you all next season boys!
Saturday started with 6 teams playing at 8am. After that 4 new teams came in every 1-2 hours until the final 4 teams arrived at 7pm. Shaft Soooo Smoove won the most matches in a row, winning 5 on the loser's side to go 6-2. Relative Unknown & Hot Pockets won their first four matches to start the day and Shoot the Moon won 4 in a row before being eliminated Sunday. Phil Anderson scored his 1000th tournament point as did Tony Begaye, Anthony Beyale, Arnold Shiplett & Cathy Beyale. Anthony Begaye also won his 100th game in the championships. Finishing in 8th place was Team G.O.A.T. who won $300. 7th place and $325 went to Chapa Khan. Tough Times and Doc's Gang tied for 5th and split the difference of $725 with Doc's Gang winning the lag for 5th! Shoot the Moon finished in 4th and took home $400. 3rd place went to Cash Money who won $500 for the fete.
Fall 2014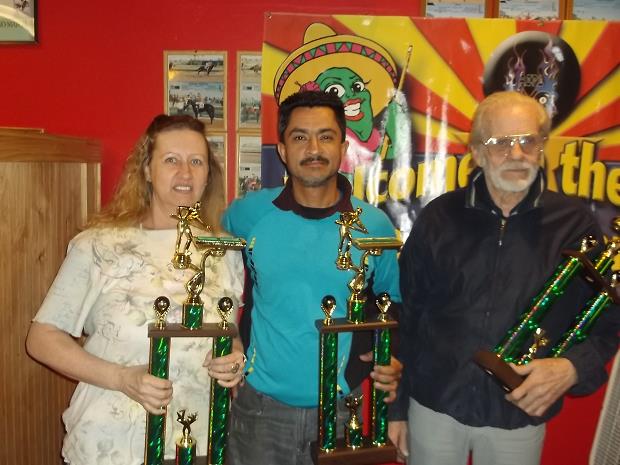 Fatal Attraction
Congratulations to Harold Lyons, Laura Boothroyd & Francisco Serrano of Fatal Attraction from the Q n Brew in Tempe! After losing their first match they went on an 8-game winning streak including back-to-back wins over Handicapped to become the 2014 AZPL Fall State Champions!!!! Their journey started with a 5pm start time thanks to their first place finish at the Q n Brew. Their first match was also their first & last loss, losing to Shoot to Moon. After flipping to the loser's side they ran off victories against Pimpin' Ain't Eazy and the Slate Slayers before facing Shoot the Moon a second time. This time they came out on top and continued their run by beating Doc's Gang, the El Diablos and Chapa Khan to face off against hot seat winner Handicapped. They went on to defeat them 65-54 as the visiting team followed by a 67-41 win as the home team to take home the Championship and $1650!!! Francisco Serrano was the Championship MVP, going 20-4 while scoring 218 and allowing just 113 points!
The fun began as usual on Friday night at Stinger's Sports Bar with the Scotch Doubles Singles tournament, 8-Ball Break & Run Derby and the Wild Card tournament. There were 9 teams in the Wild Card tourney and due to last minute cancellations there were 4 spots open in the tournament! The Sandbaggers, Hot Pockets, Hidaway One and the El Diablos came out victorious with spots on Saturday! For the El Diablos it was the start of a long 9-2 run.
There were 30 people participating in the 8-Ball Break & Run Derby this season. Out of those 30 it was Darren Bradford finishing in 3rd with 46 points, Harold Lyons in 2nd with 47 and John Ilk in 1st with 54. John won $155 and gets $3 off his weekly dues this season. Harold won $84 and $2 off with Darren taking $1 off each week.
In the Scotch-Doubles/Singles tournament there were 20 teams competing for first place! Regular season Handicapped teammates Calvin Balcom and Darrel Bednarek were paired up in the blind draw event and went on to beat four teams on the way to the hot seat. The last win split up Pete Williams & Darren Bradford who won 3 straight. Now on the singles side Darren beat regular season teammate Eugene Hemphill to set up the rematch but Pete lost to JR Jiron who just won 4 in a row as a single. Now it was Darren & JR to face Calvin & Darrel. JR & Darren defeated them 4 times to take 1st place and $300! 2nd place and $200 went to Calvin & Darrel. Pete Williams and Eugene Hemphill played a race to 2 for 3rd place with Eugene winning twice for $100!
On Saturday 8 teams started play at 9am. Of those 8 none went farther than the El Diablos who had a 4-game winning streak on the winner's side followed by a 5-match streak to finish in 4th place, highest of all the Wild Card teams. Scott Gwilliam went 24-8 while scoring 284 points with 5 30s for the Diablos. The 5-game winning streak was tied by Side Pocket who rattled off 5 straight wins before calling it a night. There were 32 teams overall in the tourney and there were highlights everywhere! LMF won 4 games in a row! JR Jiron's 20-game winning streak came to a close by an 8-ball break! Calvin Balcom & Harold Lyons both had a pair of 8-ball breaks during the tourney. Eugene Hemphill of Shoot the Moon went 10-4 with 113 points scored to move into 1st All-Time in tournament Power Rating! He also went from 9th to 7th in all-time points scored! Chris Negrin went 10-3 with 112 points scored to jump from 9th to 7th All-Time! Ryan Levengood went 22-10 to move into the top ten finishing 10th All-Time in PR! Laura Boothroyd moved into 3rd All-Time for the ladies in PR winning 9 games & scoring 170 points. The points moved her from 6th to 4th all-time! Her 9 wins moved her into 3rd All-Time in wins! Lynda Niichel moved from 10th to 8th in PR and finished 9th all-time in points while winning 7 and scoring 116. Tara Negrin finished the day in 9th in PR and 7th in wins after winning 7 and scoring 111. She also moved up a notch to 6th all-time in points. Dawn Atokuku passed Michael Kerin as the All-Time points leader after scoring 205 points and wins while going 16-10! Doc Rogers moved into the top 10 tied with Jim Green at 1,257 scored! Arnold Shiplett, Phil Anderson & Gary Wimmer scored their 1,000th tournament point!
Eight teams returned on Sunday with Handicapped riding a 4-game winning streak. After extending that to 5 with a win over Chapa Khan the team of Calvin Balcom, Darrel Bednarek & Dwayne Beagle waited for their opponent. On the other side of the bracket Side Pocket came in riding that 5-game streak only to have it snapped by The El Diablos who with the win extended their own streak eventually to 5! Shoot the Moon went 0-2 on Sunday to finish in 8th place winning $257! Side Pocket finished in 7th with $243! Out of five teams from Globe Derailed was the only one to make it to Sunday and promptly ran into the El Diablos who knocked them out of the bracket to face Doc's Gang, who lost to Fatal Attraction, in a battle for 5th place. It was a one-two punch that knocked Derailed off the tracks and back to Globe with a 6th place finish and $200! Doc's Gang finished in 5th with $522! Next up was The El Diablos at Fatal Attraction in a battle for 4th place. After taking a 44-32 lead after 5 games Harold Lyon stunned them with an 8-ball break to bring it within a point! After that it was Fatal Attraction who went on a 30-18 run to win 73-62! The Diablos won $398 for 4th. Up next was Chapa Khan! In the opening round it was all about the Khan as they dominated 28-10 and 38-15 after 4 but that was it as a couple of 8-ball breaks brought it within a point again! They won the next 2 by a score of 20-9 to take the win and advance to the next round! Chapa Khan took 3rd and $718!
Championship Match - Handicapped Vs Fatal Attraction. After two rounds it was 51-34 for Fatal. Handicapped won the next two but it wasn't enough as they lost the first match 65-54 in 8 games. In the second match it was déjà vu all over again, especially for Calvin & Darrel who lost twice from the hot seat in the Scotch Doubles, as Fatal Attraction won 6 of 7 to take a 67-41 7-game victory over Handicapped! Handicapped took home $856 while Fatal Attraction took the top prize of $1650!!
Summer 2014
Rusty Trombones
Congratulations to Amado Martinez, Chris Negrin & William Weiss of the Rusty Trombones! They went 3-1 to win it all at Stinger's Sports Bar & Grill and become the Summer 2014 AZPL State Champions! Coming in as the #4 ranked team they defeated the 3 Sanchos and Pedal to the Medal on Saturday before coming back on Sunday to defeat Huddle Up setting up a rematch with Pedal to the Medal. This time it was Pedal to the Medal who came out on top giving the Trombones their first loss. In what would have been their third match against each other both team decided to split with the Rusty Trombones becoming Champions!
On Friday night the festivities began with 32 players playing in the Scotch Doubles/Singles Tournament. Ben Sutherland & George LaFar started out together winning their first match before losing to Darren Bradford & Shawn Ashworth. As Darren & Shawn went on to win the Scotch side Ben & George flipped into the singles side with George defeating Ryan Levengood, Chris Negrin & Brady Williams and Ben beating Harold Lyons, Charlie Taylor and Jim Stacy to pair up again and setting up the rematch. This time it was George & Ben winning twice to win $240! Darren & Shawn won $168 with Brady & Jim each winning $36.
In the 8-Ball Break & Run Derby there were 26 players competing for the title! Ryan Levengood took the lead in the first round with 23 points. Shawn Ashworth scored 22 and Eugene Hemphill & Darren Bradford tied with 18 each for the top 3 spots. In the 2nd round Harold Lyons scored 30 to take the lead with 42. George Lafar got 29 in the 2nd round to tie Darren Bradford with 37 and a second place tie. In the third round Ben Sutherland scored a record 54 points to take the lead with 78. Harold scored another 17 to finish with 59 and George scored 8 to finish with 45. In the championship round Ben Sutherland ran out 8 to take first place and $160! George finished in 2nd with 7 points and $80. Harold struck out swinging and lowers his dues by a buck next season.
On Saturday 9 teams started the day with 4 new teams coming in every round until 29 teams were playing. The 3 Sanchos, Thoi Truong, Derek Deffner & Daniel Short, went 5-0 before being sent to the losers side by eventual champs Rusty Trombones. They finished 8th defeating Ryan Levengood, Chris Negrin & Brady Williams of Dirty Mike and the Boyz. They would go on to lose to Paul Sanborn, Brandon Keiser & David Groves of RamRod II New & Improved, who lost twice to Pedal to the Medal, and Whiskey Tango Foxtrot featuring Jim Hastings, Kurt Siebels & Saad Saad. Thoi Truong was the tournament MVP, going 20-8 shooting a 26 match average and scoring 242 points. Richard Owens, Kat Esparza & Scott Harris of Huddle Up went 3-0 before losing to the Rusty Trombones & Pedal to the Medal. #1 seed Tough Times (Skip Bales, Terry Lemke & Kevin Phillips) lost their first match to Chase Rumfola, Eric Menard & Russ Winders of the Jewbacabras before rattling off 3 straight wins vs Eric McKay, Gary Wimmer, Arnold Shiplett & Kip Anderson of No Name, Whiskey Tango Foxtrot and a rematch with Jewbacabras before losing to Pedal to the Medal. Pedal to the Medal, which started in the 10th seed, went 3-0 on the winner's side and 4-0 on the loser's side before agreeing to split and take 2nd place! Laura Boothroyd is the women's MVP going 14-8, shooting 24.5 and scoring 180 points!
Spring 2014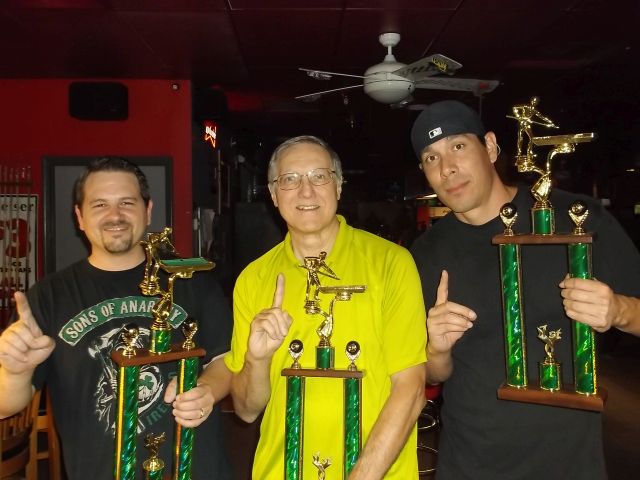 The Brady Bunch
Congratulations to Brady Williams, Anthony Tomei & Chris Miller of The Brady Bunch from Jester's Billiards! They went 5-1 on their way to winning $1605 in prize money and became the Spring 2014 AZPL State Champions!
The fun began on Friday night at Stinger's Sports Bar & Grill with 40 players signing up for a blind draw scotch doubles/singles tournament. It was a race to 2, 3 or 4 on both sides as players were paired up on the scotch side. With $600 in prize money the tournament paid out 6 players. The team of Darrel Bednarek & Brandon Keiser went 4-0 to take the hot seat and wait it out on the scotch side. In Scotch Doubles/Singles when your scotch team loses you ditch your partner and play on the losers side in what is now a singles tournament. The final two players team up to take on the winner of the Scotch side. Those two players were JR Burkhart & Joe Campbell. Darrel & Brandon won winning $300 in prize money and taking 1st! JR & Joe finished 2nd with $200! 3rd & 4th place from the singles side was Steve Blackburn & Tim Ashley with each getting $50.
That wasn't all the fun! 24 players competed in the 8-Ball Break & Run Derby on Friday night too! Eric Nordstrom & Paul Sanborn tied for the lead in the opening round with 29 points. Heading into the 2nd round there were now 16 players. Eric Nordstrom added 31 to his score for 60 points to tie but Paul wasn't so lucky scoring just 9 but still in the top 3 as no one scored closer than 34 total points. Tying Eric at 60 was Steve Blackburn, who scored 38! The top 10 players advanced to the 3rd round and Eric got 30 to set a new record for total points with 90! Also passing the old record was Steve Blackburn who added 20 for a total score of 80! Chris Negrin scored 19 for a total of 49 but Paul scored 12 this time for a total score of 50 to barely make it to the top 3! In the final round the points reset to zero and this time it was all Paul to win the derby! Steve took 2nd with Eric finishing 3rd!
And last but not least there was the Wild Card Tournament! Larry, Darryl & Darryl won the wild card the easy way – by showing up! They were the only team that showed allowing them to take it uncontested. Congratulations to Michael Russell, Dwayne Beagle & Michael Kerin! With the win they get to claim the 32nd spot in the championships and a 9am start time! Starting with the Summer season the Wild Card tournament will be open to any AZPL alumni players to participate. Details below!
Which brings us to Saturday!!! 9am and 8 teams ready to play! Out of those 8, Mixed Nuts won 3 in a row before losing to Evil Ways. They ended up finishing 4th statistically with a 4-2 record! Doc's Gang went 6-0 before losing to DILLIGAF and finishing 7-2. They also had the longest winning streak of the tournament and most overall wins! DILLIGAF went 5-2 and lead all teams with a 69% win ratio and held their opponents to an average score of just 43 points! Going undefeated was Shoot the Moon and the Brady Bunch who got to meet up on Sunday at 2 to battle it out on the winner's side! Shoot the Moon defeated DILLIGAF twice, the first time 55-21 with 3 10-0s holding Jason to zero! Oscar Avila Sr was the tournament MVP going 15-1 while outscoring his opponents 157-42 for the Mixed Nuts! Cathy Beyale was the women's MVP going 9-3 while scoring 105 points, 2 30s and a 10-0 for I'm With Them Eh! Doug Molhook won 16 games for Doc's Gang to lead the tourney in wins and most points with 205. Jason Burkhart of DILLIGAF led all players with 6 10-0 games! Seven players hit 8-ball breaks in the event – Arnold Shiplett, Calvin Balcom, Darrel Bednarek, Jason Burkhart, Justin King, Rick Albertson & Thoi Truong!
On Sunday the action started at 10am with a continuation of the Championships and a new event, the 2nd Chance Tournament. 6 teams participated in the second chance with Pete Williams, Harold Lyons & Laura Boothroyd of Evil Ways defeating Curtis Neal, Joe Granillo & Amado Martinez of Chicken Dicks by coin flip as they decided to split the cash at $150 each.
DILLIGAF started off Sunday with 3 straight wins vs Tough Times, Doc's Gang and My Two Dads, winning each by more than 30 points to close out the left side of the bracket and await the loser between Shoot the Moon & the Brady Bunch. The Brady Bunch won it in 7 games with a 20-4 run in games 6-7 to close it out 63-41. The loss by Shoot the Moon set up a rematch against DILLIGAF. It was win or go home. DILLIGAF came on strong taking the first round 30-18 but the Moons went 40-10 to take a 58-40 lead with 2 games to go. Darren put it away with a 10-1 against Steve to take a 68-41 lead and the win! Now for another rematch, this time the Moons Vs the Bradys. In the first match the Brady Bunch had a 57-49 lead after 7 games but Darren & Eugene got a pair of 10-2s to pull out the win 69-61 to set up another rematch! In the first round the Bradys took a 22-19 lead with a pair of 10s. In the next round it was the Moons turn with a 23-19 run to take a 1 point lead going into the 3rd round for the 3x Champs! In the 3rd round Anthony defeated Darren 10-7 to take back the lead which set up Chris Miller to win it all with a 10-2 run vs Phil Anderson and become the Spring 2014 AZPL State Champions!!!
Fall 2013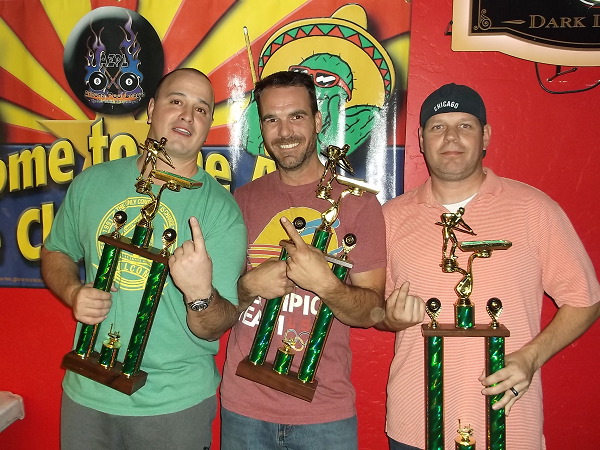 Two Lefts Make It Right
2 Lefts Make It Right started at 7pm Saturday and started their run by facing off against Chris Negrin's other team, It's Like a Nightmare, which it probably was as Chris sat on the sidelines and watched his teammates battle it out. Ryan Levengood hit an 8-ball break to propel 2 Lefts to a 70-54 win. Their next match was against DILLIGAF. After going down 34-21 after 4 games they went on a 40-10 run to win 61-44 in 8 games setting up their first of three games vs Tough Times. After winning 5 out of 6 they had a 56-42 point advantage heading into the third round. Tough Times went on a 30-12 run to win 69-68 straight up and send them to the loser's side to battle it out. Their next match was a rematch against DILLIGAF. This time it came down to the wire with a 68-66 nail-biter victory to take the top spot on the losers side setting up a rematch vs Tough Times! In the first match it was tied at 17 after 2 games before going on a 50-20 run to win 67-40 in 7 games. In the second match, not so much. Like the game before it was tied at 17 after 2 games but this time it was Tough Times as Terry Lemke hit an 8-ball break to get a 28-17 lead heading into round two. After 6 games it was tied up at 54. Can't get any closer than that. After trading wins it was a 3-point spread with one game to go. Win or lose. That simple. Scott Gwilliam took the stage against Kevin Phillips and let out victorious yell after a 10-2 win to win the 32nd AZPL State Championship and almost $1700!!!
Summer 2013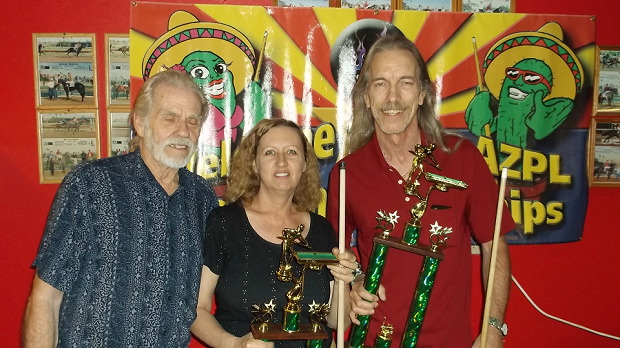 Evil Ways
Finishing in 2nd place in their division they led off in the #7 spot and got a 72-46 win over Beach Patrol that finished in 7 games. Next up was the team that took first place over them, Dazed & Confused. Curtis Neal & Joe Granillo got a quick pair of wins before taking a 23-20 lead after the first round. Pete started the 2nd round with a win to give Evil Ways their first lead of the match. Dawn Atokuku defeated Laura in a battle of MVPs 10-6 to give the Dazed the lead but it wouldn't hold as Harold defeated Curtis 10-1 to take a 6-point lead. Dazed pulled within 2 points but wouldn't get closer as Evil Ways would eventually win 69-65. Up next was the No 1 team in the league, Doc's Gang. They shut Doc's Gang down, taking a 50-23 lead after 5 games. Doc Rogers snapped the streak with a 10-6 win over Pete but that would be it as Laura beat Doug Molhook 10-5 to take a 28-point lead after 7 games to finish the match and end their night at 3-0. They would return on Sunday at 2pm well rested but it wouldn't get any easier as next up would be first place in the East Valley, Team Ram Rod! Pete & Harold won the first two before Team Ram Rod won the next 3 in a row to hold the lead through 6 games but by the 7th game Evil Ways took back the lead and won the match 65-60! They now awaited the winner from the loser's side which would be Team Ram Rod, who just defeated Doc's Gang 73-69 in a 9-game nailbiter! In the first game Team Ram Rod's Brady Williams started off by running out on Pete but it was all Evil Ways the rest of the way as they won the next 6 games in a row to win 60-38 in 7 games and become AZPL State Champions!
Spring 2013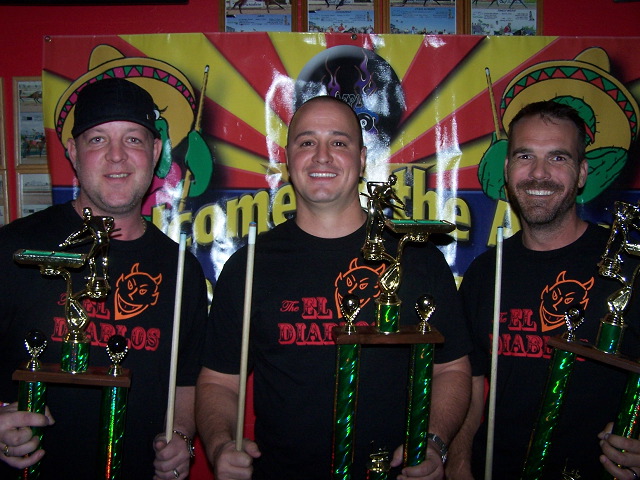 The El Diablos
I'm proud to announce the winner of the 30th AZPL State Championship held at Stinger's Sports Bar is J.R. Jordan, Ryan Levengood & Scott Gwilliam of The El Diablos from Jester's Billiards! They tore through five teams, losing only 9 games, in route to a 5-0 record, winning $1500 along the way! Their first opponent was DRBJ. Ryan led it off with his first of four 10-0s in the tournament, this one Vs Rob Turner. J.R. & Scott followed that with a pair of wins to take a 30-10 lead. In the second round DRBJ scratched out 19 points with Rob winning his game but the Diablos scored 27 to take a 57-29 lead into the final round. Rob once again won his game but Ryan scored his second 10-0 to complete the 30 to put away the match after 8 games. The final score was 74-39.
In their second match they faced off against Doc's Gang, who went 13-1 this season. After two games the score was 17-16 after trading wins but it was all El Diablos after that as they rattled off four straight wins including a 10-0 by Ryan Vs Doc Rogers and a 10-1 by Scott Vs Doug Molhook to win the match in 6 games with a 57-28 victory.
Their third and final match on Saturday was against Team Ram Rod, who had just gone on a winning streak of their own. It started out the same with all three winning their first games, taking a 30-16 lead into the 2nd round. And they would need it as they were outscored 24-16 with Brady Williams scoring a 10-0 against Scott to finish with a 46-40 lead. It would be the only round they lose throughout the tournament. The teams scored 16-15 in the next two games giving The El Diablos a 62-55 lead heading into the final game. Scott promptly scored the necessary 3 to seal the deal to take the win in what would be their closest match.
On Sunday The El Diablos would return at 2pm to face off against Balls in Hand in what would be the first of two matches against them. In the opening round Pete Williams and Harold Lyons combined for a pair of wins to take a 20-13 lead after two games but the Diablos won the next three to take a 43-34 lead after five. They lost the next one but won the next two by a score of 20-8 to finish the match after 8 games with a 69-52 score, sending Balls in Hand to face off against No Name.
After watching their future opponents for the next two hours in a 66-62 nailbiter it was back to business! Ryan went on a 20-2 run Vs Pete & Harold to lead the way as The El Diablos won 6 straight games to win the match 60-28! Talk about a debut!
Fall 2012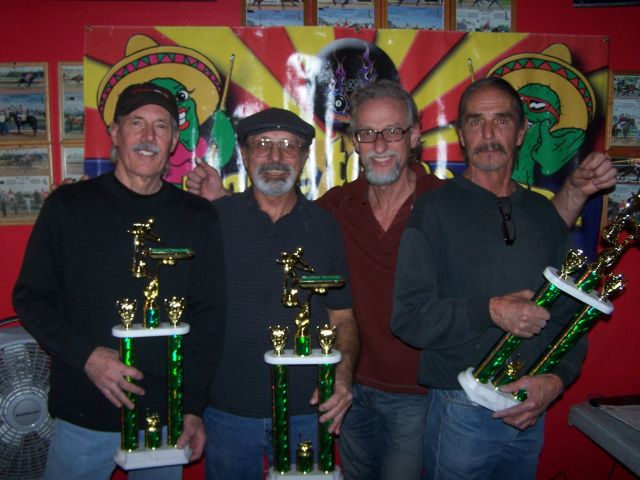 Uptown Billiards
Congratulations to Kent Bybee, Art Armijo, Kevin Randall & Paul Fleming of Uptown Billiards from the Stockman's In-House Division in Flagstaff! They are the Fall 2012 State Champions! Entering the championships as the number 3 seed they defeated Shamrock, Rollin Eightz, Raider's Eighters & CC No 2 to go 4-0 to win the trophies and $1000 in cash! In the Championship Match they won 62-52 winning 5 of the 8 games played. Art & Kent both won their first games to take a 20-10 lead but Skip Bales hit an 8-ball break for CC No 2 to give them a 21-20 lead to finish the first round. In the 2nd round Art won 10-5 for a 30-26 lead. Skip defeated Kent 10-7 to pull within 1 but it wouldn't last. Paul beat Terry 10-5 to take a 47-42 lead into the final round. Art put an exclamation point on his day by finishing with a 10-0 against Skip to score a 30! That gave Uptown a 57-42 lead with 2 games to go. The pressure was on as CC had to hold Uptown to 4 points in the final 2 games. With division MVP Terry Lemke waiting on-deck Jason Jerrel won the game but Kent managed to score 5 points to win the match and the Championship! It was Kent & Art's 2nd consecutive title as they won it the previous season with Ginsu Knife.
The AZPL State Championships opened up at Stinger's Sports Bar on Friday, January 4th with three separate events and live music all the way from Globe. 8-Ball Break & Run Derby, a Blind Draw Scotch Doubles tournament and the Top 16 Singles Tournament featuring the top players in the league were the three events! To be in the 8-Ball Break & Run Derby you must hit an 8-ball break during the season, other than that there is no enty fee. 1st Place went to Anthony Begay, who wins a $50 credit to his dues. Coming in 2nd was Pete Williams with a $35 credit and Joe Zack came in 3rd to win a $15 credit. The Scotch Doubles tournament featured 16 players randomly drawn as partners to play for over $300 in cash and prizes! Entry was $5 with Stinger's adding 50%. First place went to the team of Kendra Mikkelson & Jason Jerrel who won $120 in cash and both get $3 off their weekly dues next season! Finishing in 2nd was the team of Skip Bales & Kevin Randall who split $80 in cash and get $2 off their dues next season. In third place was Eric Danielson Sr & Joe Campbell who split $40 in cash and get $1 off their dues. In the Top 16 Robert Berry defeated 5 straight opponents to go undefeated and win over $200 in cash & prizes! Second place went to Terry Lemke, who was lucky enough to play Robert twice! He won $80. Chris Negrin came in 3rd with a $40 prize! Entry into that tournament was $10 and Stinger's added 50% to the pot! Thanks to Chris for helping to run that tournament! The band, Jaded, featuring David Boerst, Manuel Gonzales and the AZPL's own Jean Garcia traveled all the way from Globe to play! They started at 9pm and rocked the place til 1am! You guys kick ass! If you missed them they'll be back at the next Championship!
On Saturday it started with 9 teams to start the 9am Wild Card round. Of the 9 Breakin Bad did the best with a 3-2 record and tying for 13th. Of the other wild card teams Big Balls & Tiny Pockets also finished tied for 13th. Throughout the day there would be 28 teams participating. Of those 8 would return on Sunday to battle it out. Longest winning streak went to CC No 2 which lost their first match to the Rollin Eightz then went on tear winning 5 in a row against Reconstruction, Black Shirts, Rollin Eightz, Shoot the Moon & Raiders Eighters before finishing in 2nd place and winning $500! Finishing in 3rd place and winning $400 was Raider's Eighters who won 2 before losing their next 2. Shoot the Moon also went 5-2 and had a 4 game streak on the loser's side to finish in 4th place and won $300. Eugene Hemphill of Shoot the Moon led all players with a 3.159 Power Rating going 15-2, scoring 163 points, shooting almost a 29 match average, hitting an 8-ball break, having two 10-0 runouts and only allowing 86 points! Teammate Chris Negrin scored the most points in the tourney with 168. Chris also tied with Alex Franklin of Reconstruction for the lead in 30-point games with 3 each. Tying for 5th was Doc's Gang & the Rollin Eightz who each won $250. Doug Molhook was the only other player to hit an 8-ball break in the tourney. Finishing tied for 7th was the Black Shirts and Three Hanging Brains. They both won $200. Robert Berry of the Black Shirts had four 10-0 runs to lead the league. Kendra Mikkelson of 5030 was the top rated female in the tournament going 6-6 and scoring 92 points!
Summer 2012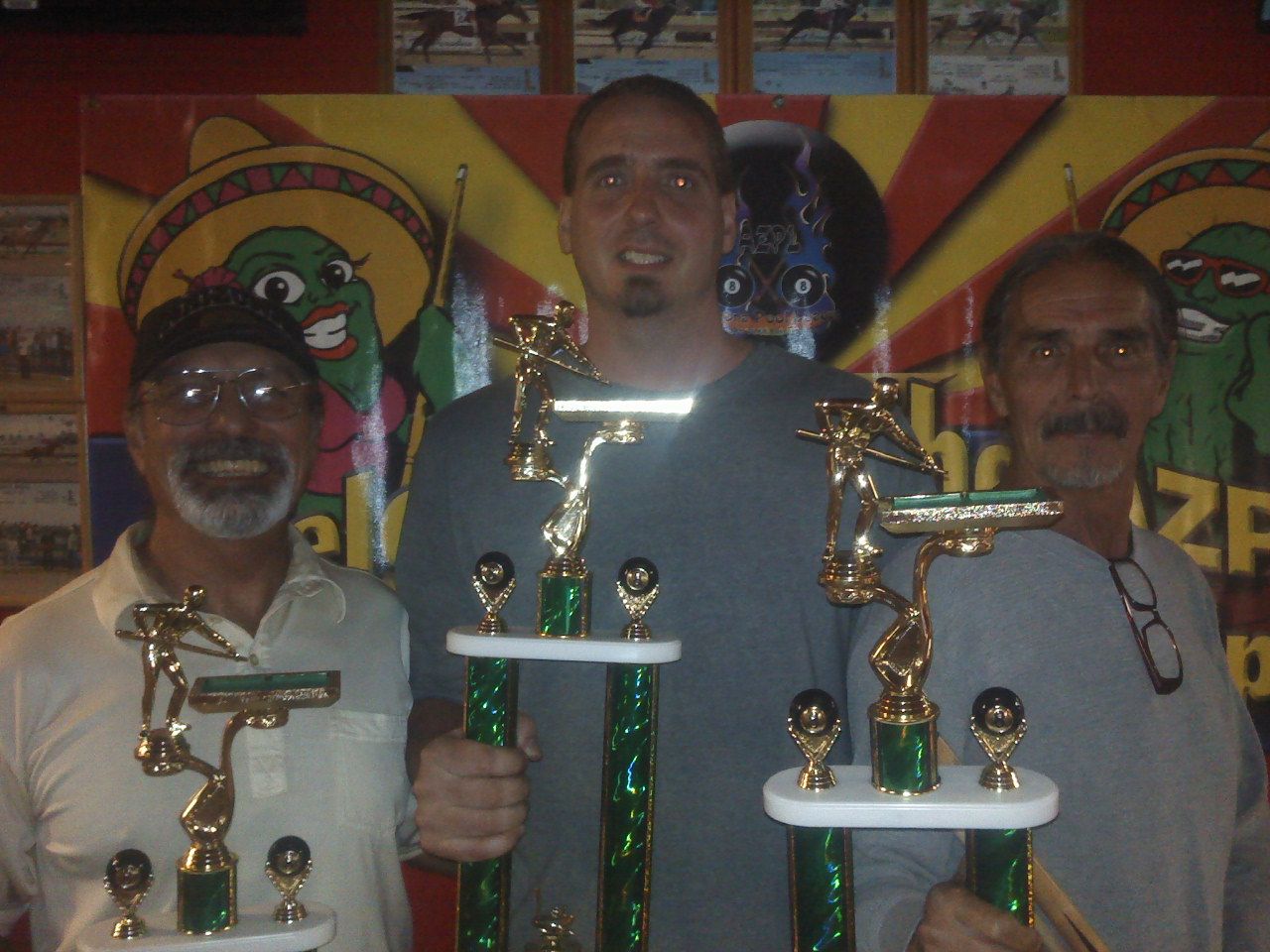 Ginsu Knife
Starting in 15th, Kent Bybee, Captain Curtis Elifritz & Art Armijo of Ginsu Knife sliced through the competition going 10-1 including defeating the #1 seed team of Cliff Seaton, Miguel Topete & Chris Negrin of Balls & Shaft twice to capture the title! Starting at 1pm Ginsu defeated Raider's Eighters 76-54 before losing to 3x former Champion Shoot the Moon 72-62. The loss sent Ginsu to the loser's side to then face the Black Shirts, Hit em Hard and reigning Champion Paper Weights, defeating them all to close out their Saturday competition. Returning on Sunday at 10am they faced Shoot the Moon, who they lost to yesterday. This time Curtis led the way with a 31, hitting an 8-ball break in the opening round and Art Armijo doing the same in the 3rd round, both against Lisa Bradford! They won 77-50! They defeated their next opponent Doc's Gang, led by league MVP Doc Rogers, 70-50. In that match Art started out with a 10-1 win and they never looked back. In their next match they defeated the 5 Que Studs 71-58, leaving the Studs in 4th Place. Up next were the Bus Boys. Robin Clark cleared the tables but his 30 wasn't enough to overcome the Knives as they held Chris & Derek to a combined 34 points to win 71-64 putting them into the Championship Game! Coming through the loser's side they had to defeat Balls and Shaft twice to bring home the Championship! In the first match Chris Negrin defeated Art 10-6 to take the lead. By his next game they were down 26-14. After winning again, defeating Curtis 10-4, the score was 30-24. The Knives then sliced through the next two players going on a 20-2 run to take a 50-26 lead. This time it was Kent who led the way defeating Chris 10-4 to complete his 1st 30 of the tournament and sealing a 60-30 7-game win to give Balls & Shaft their 1st loss. In the rematch it was tied up at 16 after two games. Then Curtis beat Cliff 10-0 to give them the lead and they never looked back! In the 2nd round Balls and Shaft outscored Ginsu 27-22 to pull within 5 points. Art led the way in the 3rd round, defeating Cliff 10-3 followed by Kent defeating Chris 10-5 to give Ginsu Knife the Championship by a score of 68-51 in what could be Curtis Elifritz's last game in the AZPL.
Spring 2012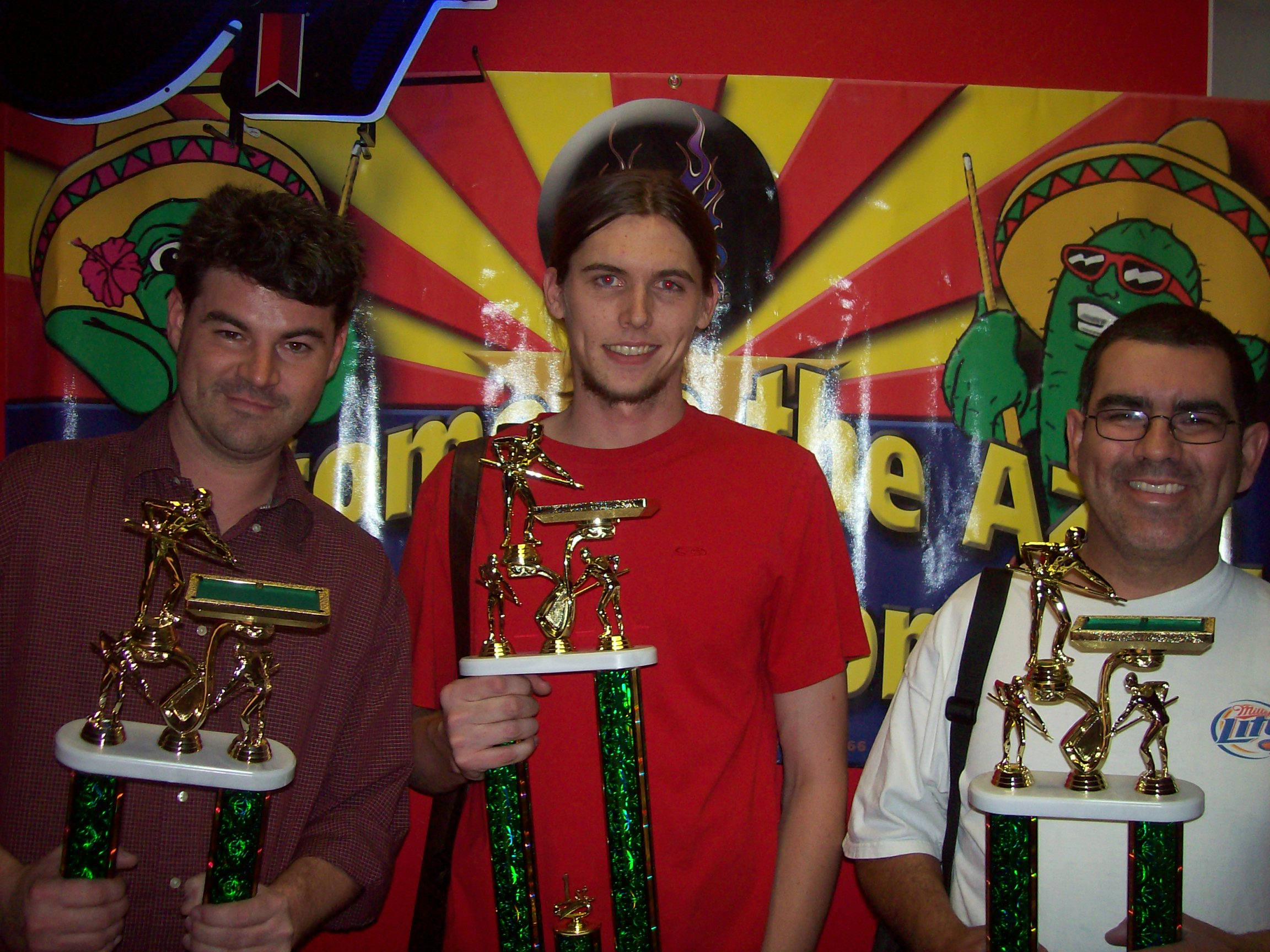 Red Devil Fish
Jay Graham, Brennan Larson & Marko Robles led the Fish to a 6-1 record, losing once to The Inebriated Chris Negrin, Dave Rayner and Cliff Seaton 65-59 then returning the favor by defeating them twice, first 66-59 and second 60-59 to win the Championship! The 3 matches featured 7 10-0s, 2 8-ball breaks and only 1 30-point game, by Brennan Larson.
Fall 2011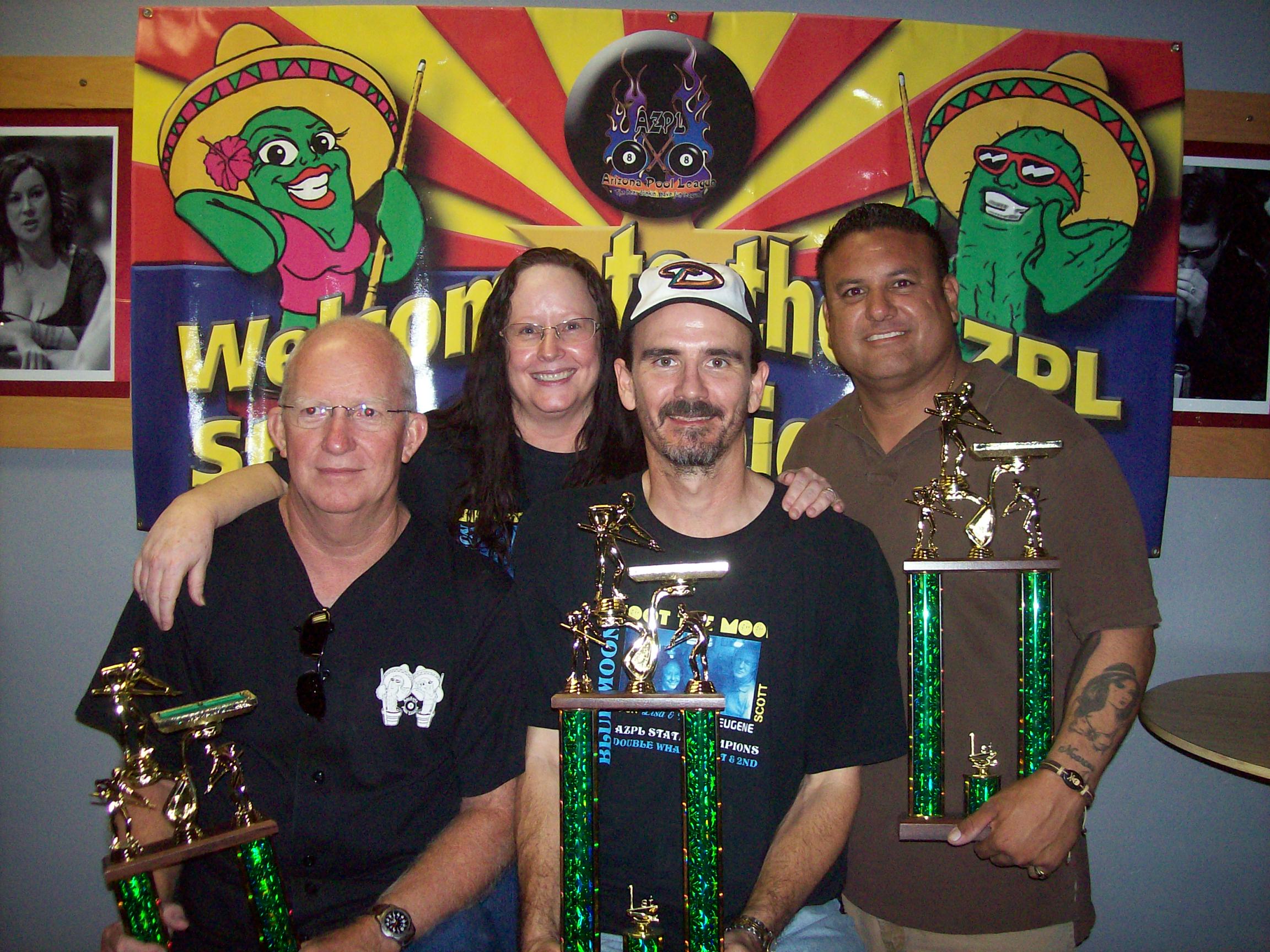 Shoot the Moon
Another State Championship has come and gone and I'd like to congratulate Darren Bradford, Mike Ramirez, Eugene Hemphill & Lisa Bradford of Shoot the Moon! They defeated Curtis Elifritz, Reagan McGuire & Tony Begaye of Ginsu Knife to become two-time State Champions! Coming into the Championships ranked #1 they defeated the Sharp Shooters, Show Me the Money & Ginsu Knife twice!
Summer 2011
Spring 2011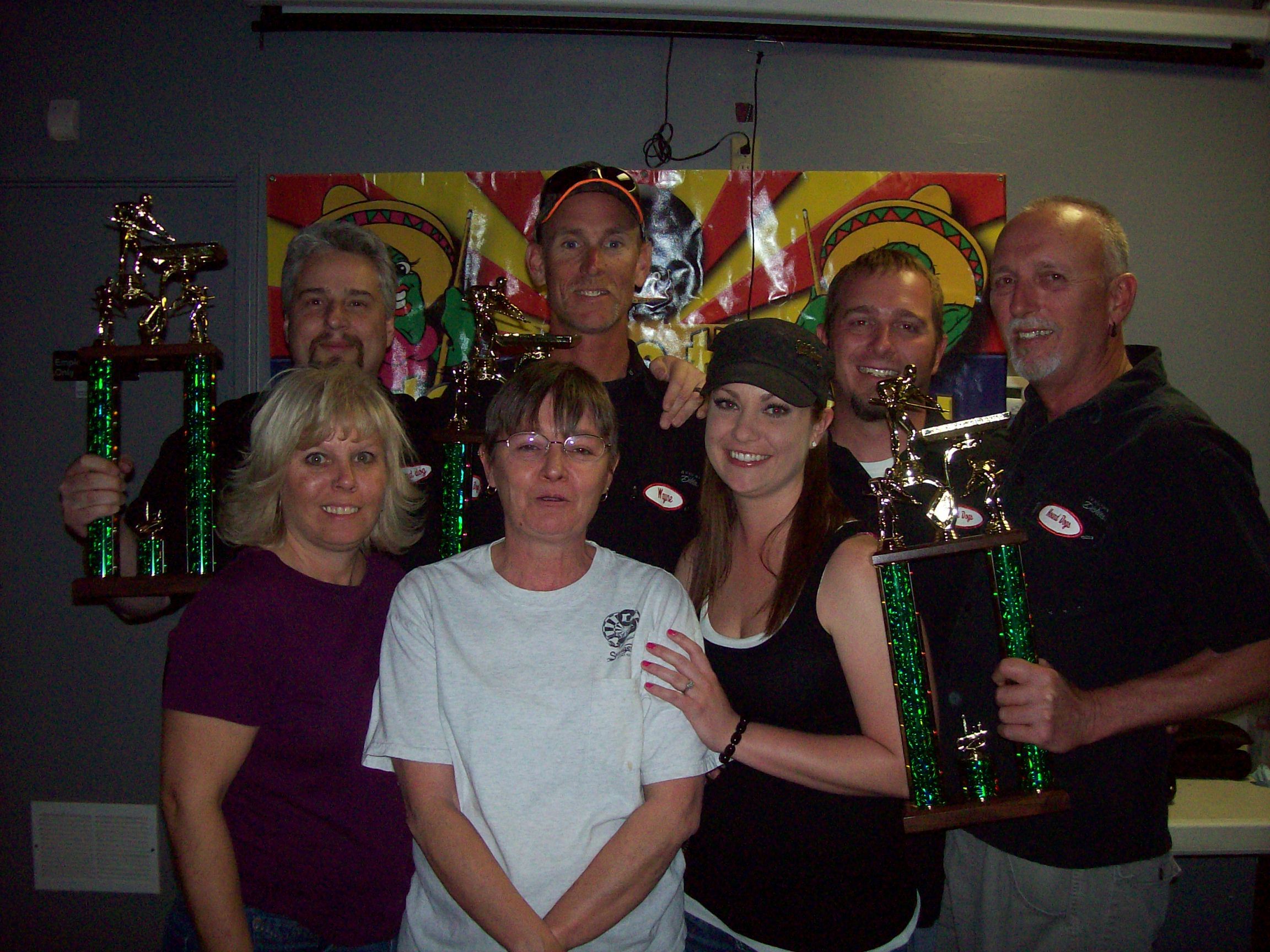 Hound Dogs
Fall 2010
Summer 2010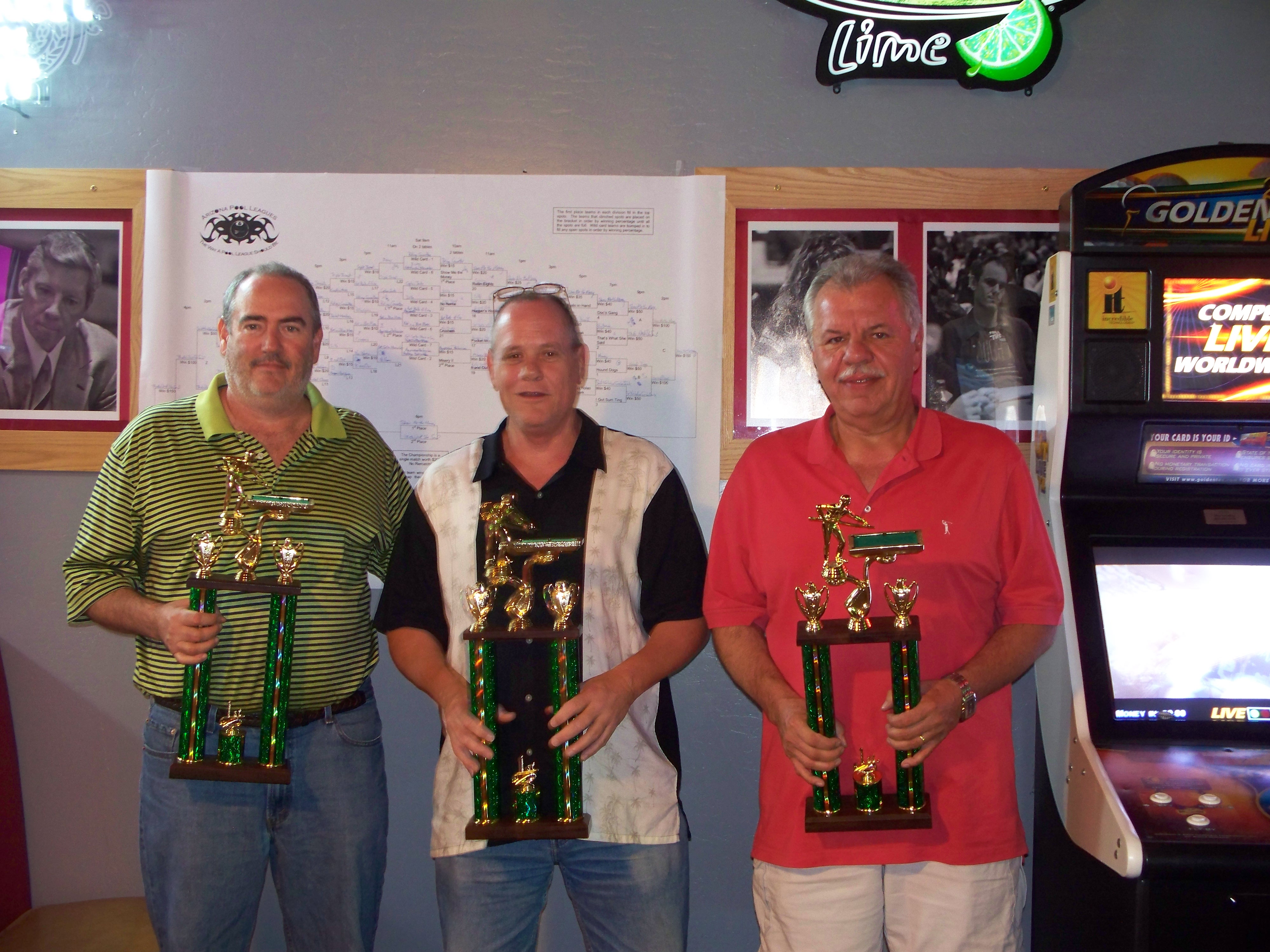 Show Me the Money
I'd like to congratulate John Cowan, Eric Ely, George Galbarski & George LaFar of Show Me the Money for winning the 22nd AZPL State Championships! They started at 10am Saturday and went on to go 9-0 in the Championships!
Spring 2010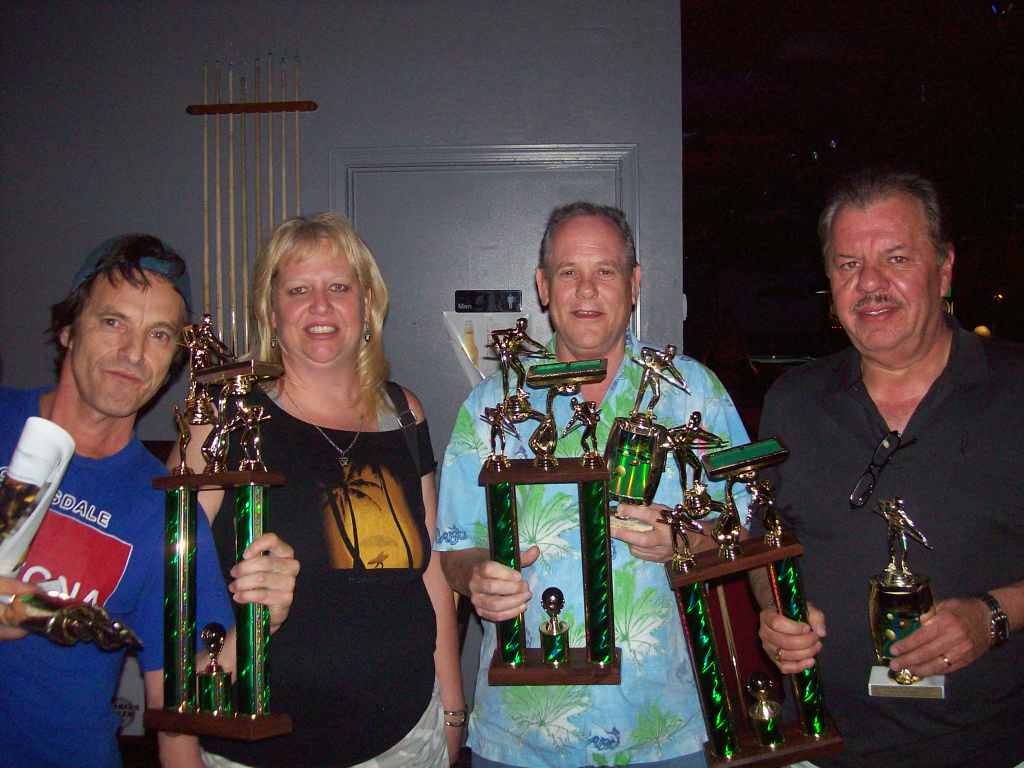 Show Me the Money
Congratulations to George Galbarski, Eric Ely, Carrie Hawley & Juan Valenzuela of Show Me the Money! They are the Spring 2010 AZPL State Champions! Starting Saturday at 9am they defeated the Crushers, Controlled Chaos, Saint Nicholas Circle Jerk, Not in a Blue Moon, Balls in Hand, Wolfpack and the Hound Dogs to face off against Bob Campbell, Jake Mueller & Jimmy Disken of Misery II for the State Championship! In the match Show Me the Money was up 30-16 after 3 games. Jake Mueller defeated George Galbarski 10-6 for Misery II's first win. Juan & Eric went on a 20-7 run to put them up 56-33 after 6 games. In game 8 Juan scored 5 vs. Jimmy to clinch the win for the undefeated Show Me the Money!
Fall 2009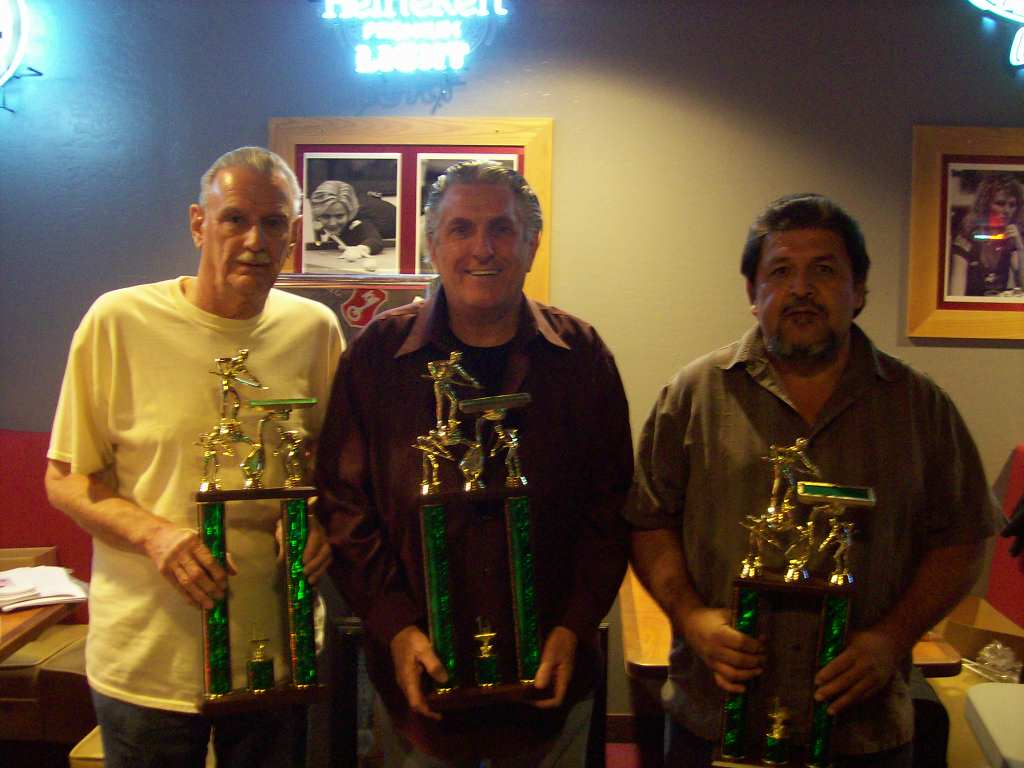 Misery
Congratulations to our Fall 2009 State Champions Phil Anderson, Bob Campbell & Ralph Tafoya of Misery!!
Summer 2009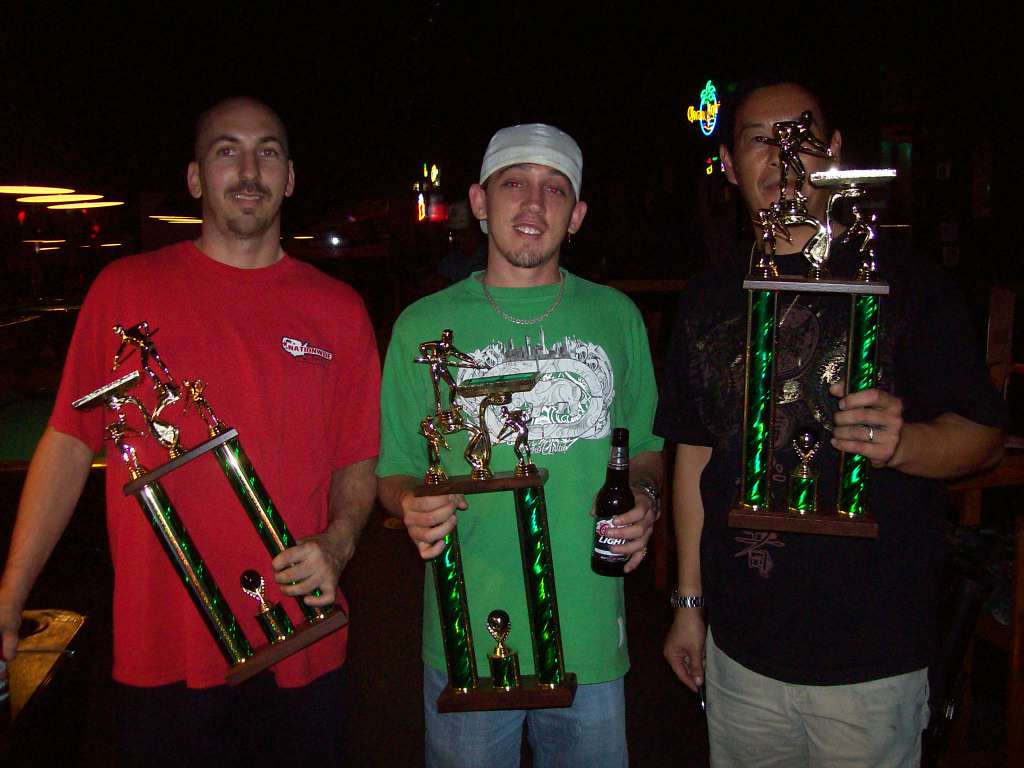 Damage Inc
The 19th AZPL State Championship has come and gone and I'd like to congratulate Eric Nordstrom, Robert Berry & Ira Lim of Damage Inc for defeating some tough odds to overcome the entire field by starting at 10am Saturday morning, narrowly escaping defeat several times, to become the State Champions. Runners Up were Eric McKay, Arnold Shiplett, Calvin Borden & Michael Dent (Gary Wimmer couldn't make the trip) of No Name from Flagstaff, who won the Winner's Side. All of the tournament matches & standings can be viewed online under a new page called "Statewide Results" on the AZPL website.
Spring 2009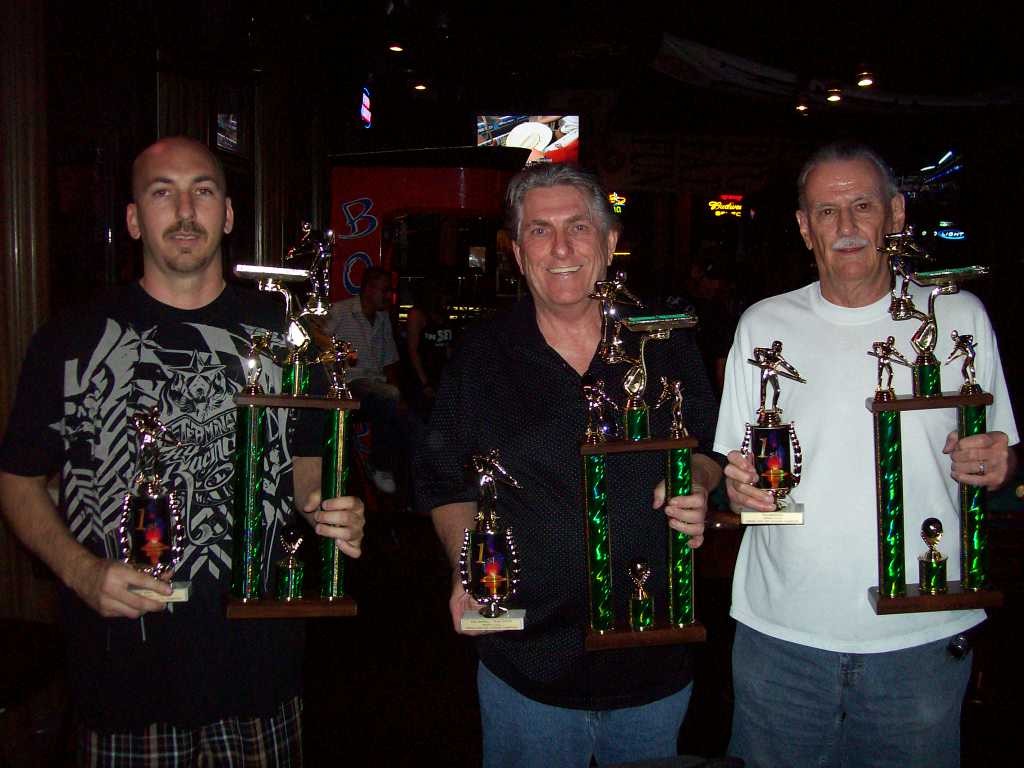 Misery
Congratulations to Bob Campbell, Phil Anderson & Robert Berry of Misery of Shooters Saloon in Apache Junction! They are your new Arizona Pool Leagues State Champions! Finishing in 2nd was Cowboy Jim Davis, JB Hart, Thomas Nations & Fred Phillips of Git er Dun from Norton's Country Corner in Queen Creek! 3rd Place went to Doug Clark, Robin Clark & Wayne Shropshire of the Hound Dogs from the Deli in Surprise who defeated Ira Lim, Eric Nordstrom & Robert Berry of Damage Inc (5th) and Lance Houde, RW Shobe & Ron Pavek of Guarantease (6th) straight up without the handicap in the Triple Threat for 3rd Place. Gary Spoleta, Carter Hammond & Mike Campbell of the Mesa Maulers defeated Israel Cerda, Stormi Karrine & Justin Wethington of Fah-Cue from the Deli straight up for 4th Place! Congratulations to those six teams for doing so well in the Championships. Next season they will all begin the State Championships in the 10am time slot on Saturday, as they'll have to play through the entire field in order to repeat.
Fall 2008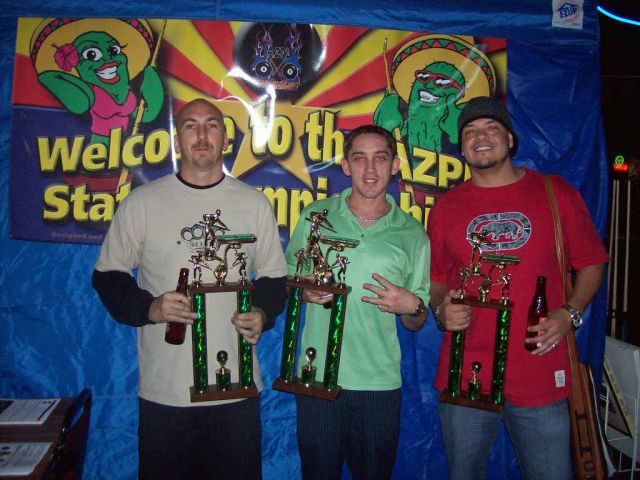 Team Schwinn
The AZPL State Championships has come and gone and we have a new winner! The team of Robert Berry, Eric Nordstrom & Mike Sandoval – Team Schwinn – defeated the team of Darren Bradford, John Macdonald & Eugene Hemphill – Shoot the Moon – to become Fall 2008 Champions!
Summer 2008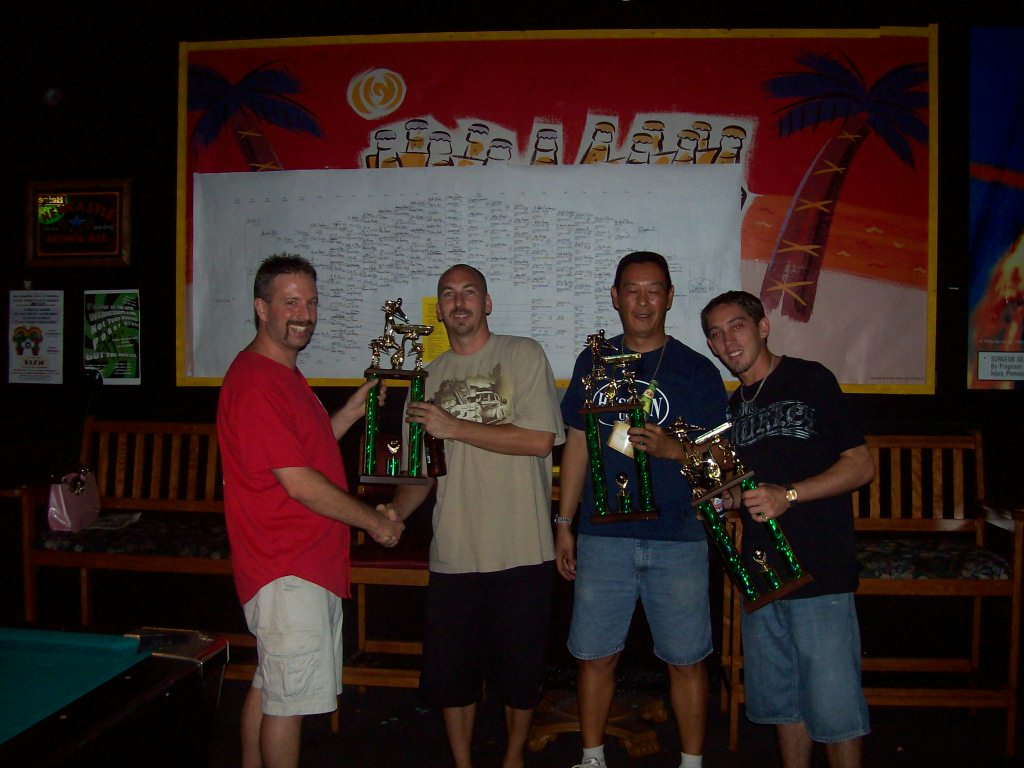 Damage Inc
Congratulations to Robert Berry, Ira Lim & Eric Nordstrom of Damage Inc! They are your Summer 2008 AZPL State Champions!
Spring 2008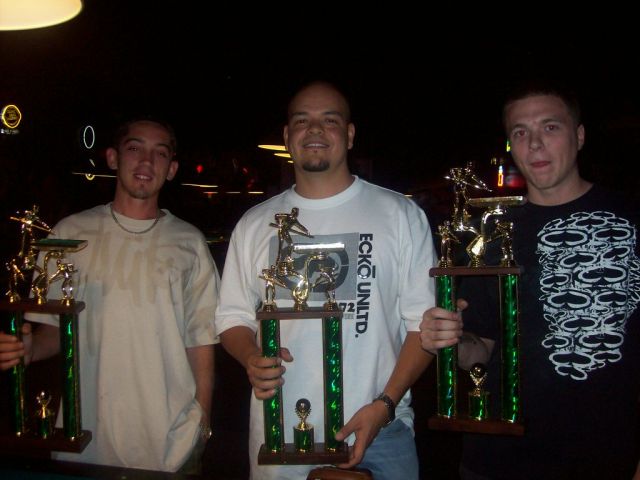 Team Schwinn
Congratulations to Eric Nordstrom, Bobby Emmons and Mike Sandoval of Team Schwinn on winning the Spring 2008 AZPL State Championship! Number 1 ranked Team Schwinn defeated Fritz's Dog House, the Fish, Trick Shot & Lefty's V to win the Spring 2008 State Championships winning a total of $2000! 2nd place went to Lefty's XXX followed by Lefty's V in 3rd, Trick Shot in 4th, the Gamecocks in 5th, and Balls in Hand in 6th.
Fall 2007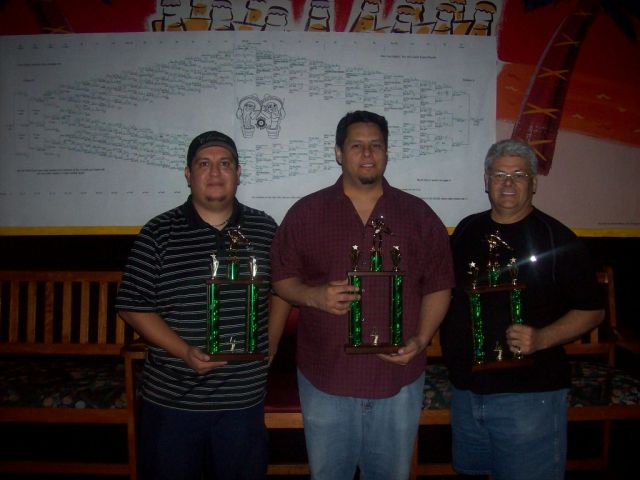 Lefty's XXX
Congratulations to the AZPL State Champion Lefty's XXX - Roy Anderson, Jesse Renteria & Doc Rice! From the pole position they came in 1st place to win a total of $2000!
Summer 2007
Hard Ones
By 7pm Sunday we were in the final rounds of both Division A & Division B. In Division B the Hard Ones team of Karl Zeidler, Rich Rash & Tim Carns came in 1st Place, Doc Rogers, Tracy Rogers & Doug Molhook of Doc's Gang came in 2nd with Russell Brown, Dan Smith & Travis Smith of Fritz's Dog House coming in 3rd.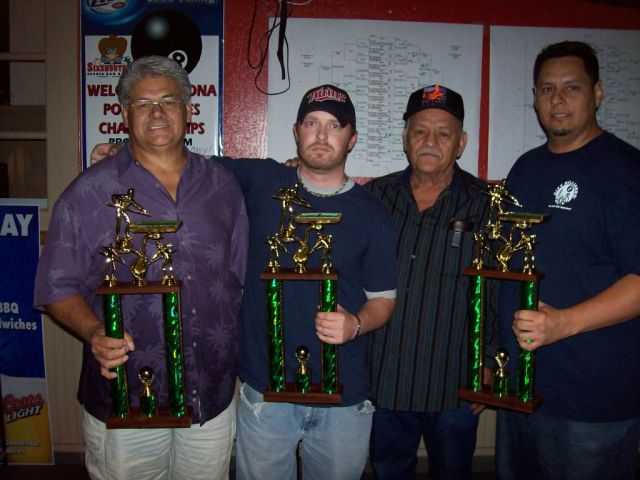 Lefty's XXX
In Division A the team of Lefty's XXX Doc Rice, Wayne Larson & Jesse Renteria came in 1st with Four the Hard Way Bill Martel, Steve Henderson, Ebony Kelly & Les Bell finishing in 2nd and the Pool Hall Junkies Part Deux James Johnson, Chris Dayton, Chad Marshall, Craig Waldrep and Michael Nichols coming in 3rd.
Spring 2007
Drawn Together
Congratulations to Ed "James" Parker, Randall Watson & Kurt Bratberg of Drawn Together for winning the Spring 2007 Arizona Pool Leagues Citywide Championships! Ranked 29th out of 129 in the regular season they defeated a field of 72 teams to become Champions! Throughout the day they won a total of $1690 for a team of 3 players! Second place went to Lefty's XXX featuring Doc Rice, Wayne Larson, Jesse Renteria & Leo Reeves! They won $1000! Third place went to the team of S.U.N. George Galbarski, Jon Kaczmar & John Cowan with $500 in winnings! 35 of the 72 teams won money in the tournament.
Fall 2006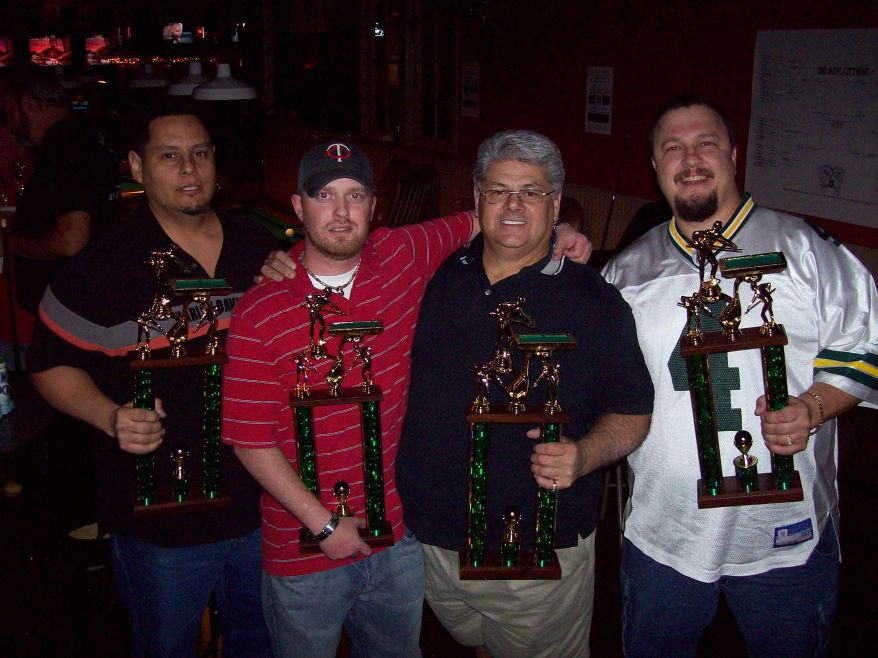 Lefty's XXX
Jesse Renteria, Wayne Larson, Doc Rice, Leo Reeves
Summer 2006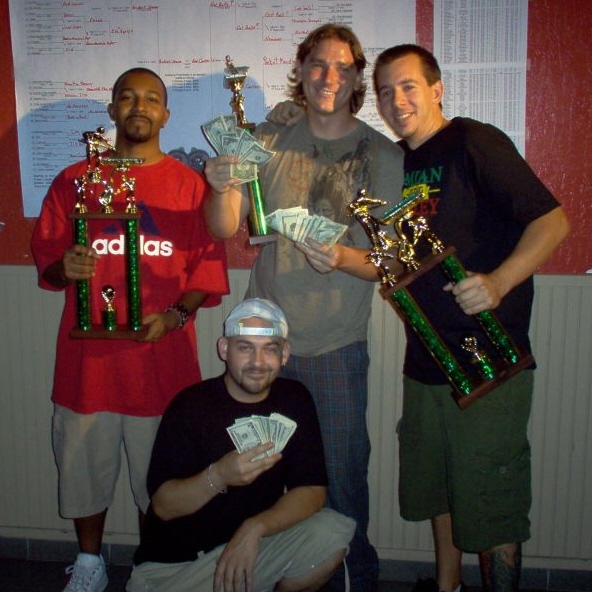 Get Carter
Congratulations to the Summer 2006 Arizona Pool Leagues Champions Carter Hammond, Brian Mosman, Jack Heinkel and Will Washington of Get Carter! It was a Royal Rumble of sorts with Get Carter being the first team to arrive and the last team standing 15 hours later as well as $1000 richer! Arriving shortly after 8am to play in the D Bracket at 52nd place they defeated Just Do It, Black Shirts, Pocket Monsters and Shaven Squirrel Nuts to become D Bracket Champions. They then went on to defeat the Division C Champion Got Balls and finally Division A Champion Perfect Storm to pull off the ultimate double upset!
Spring 2006
Stormy, Doc Rogers, Doug Molhook & of Perfect Storm!
Fall 2005
Lefty's
Ralph Montoya, Bob Cambpell, Phil Anderson & Doc Rice
Summer 2005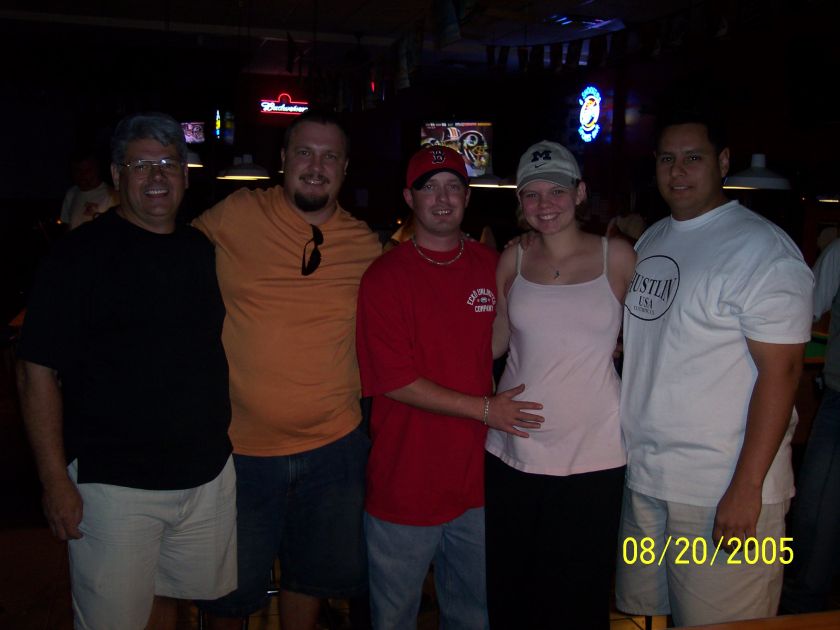 Lefty's II
Doc Rice, Leo Reeves, Wayne Larson, Wayne's pregnant girlfriend & Jesse Renteria
Spring 2005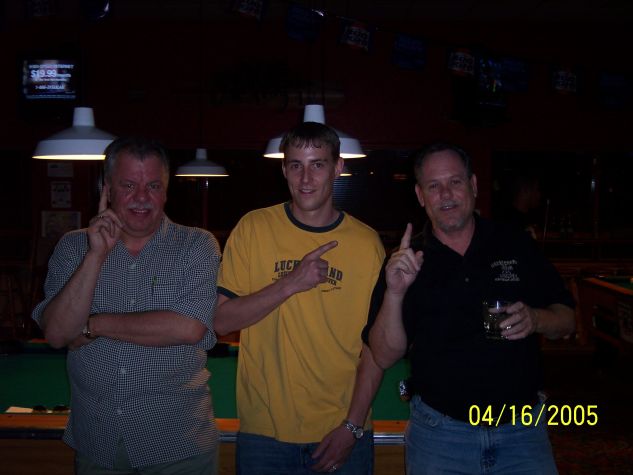 Hazelnuts & Spice
George Galbarski, Aaron Hiniker & Eric Ely
Fall 2004
The Lefty's
Joe Roe, ... , George LaFar & Doc Rice
Summer 2004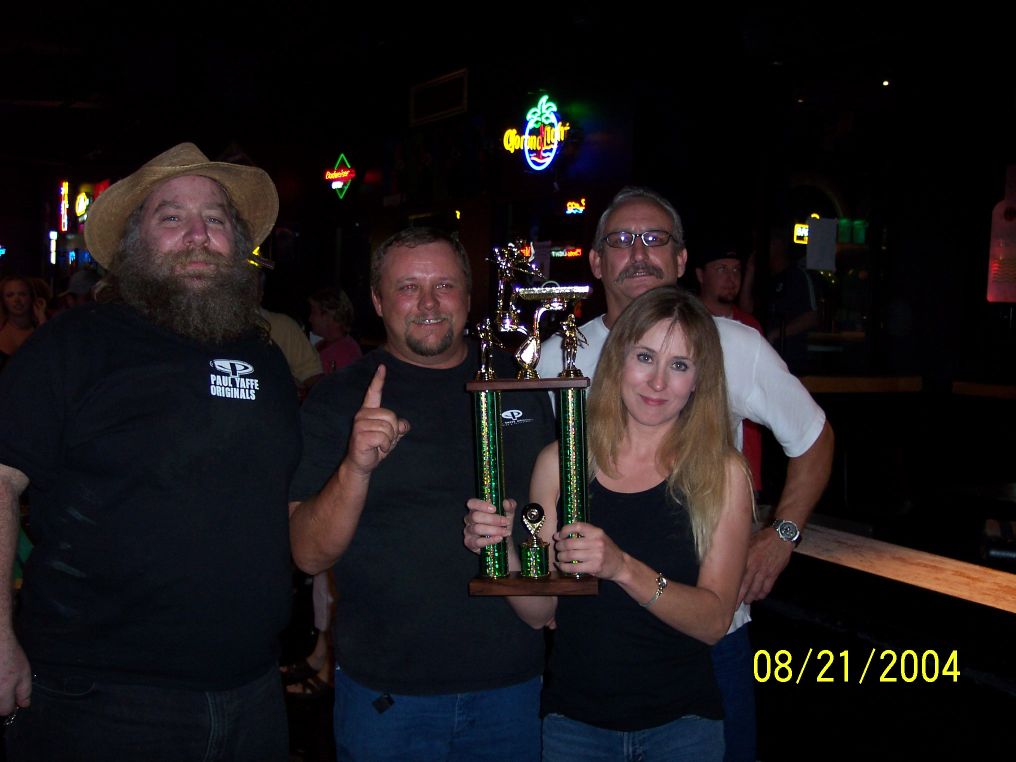 Thunderpass Strokers
Tom Plemmons, Kelly Lane & Jack Gould
Spring 2004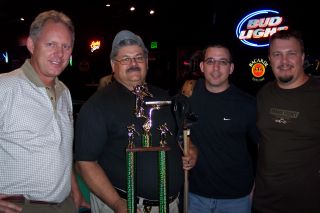 Lefty's
Joe Roe, Doc Rice, Brian Foss & Leo Reeves
Fall 2003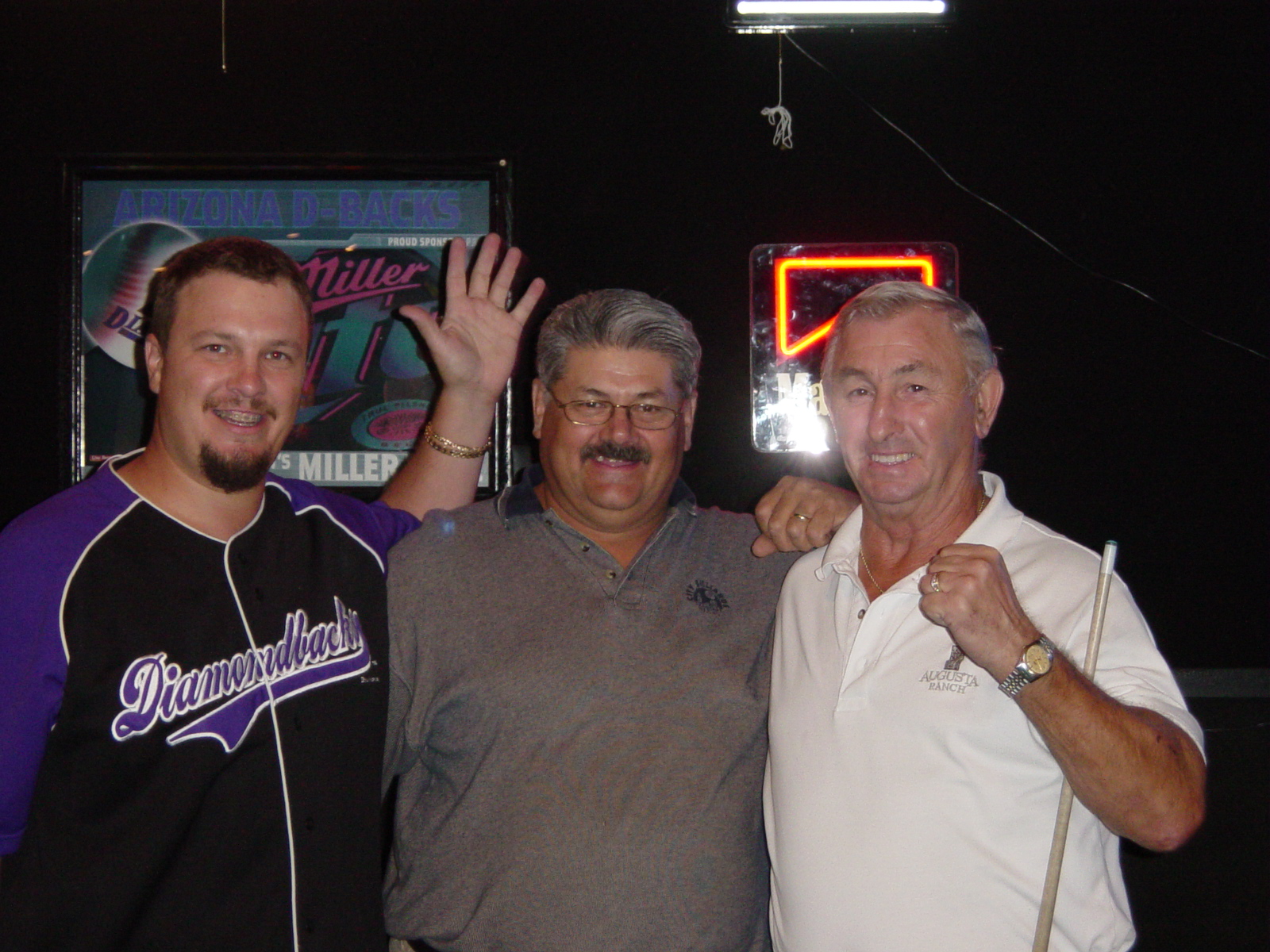 Lefty's
Leo Reeves, Doc Rice & Rich Viano
Summer 2003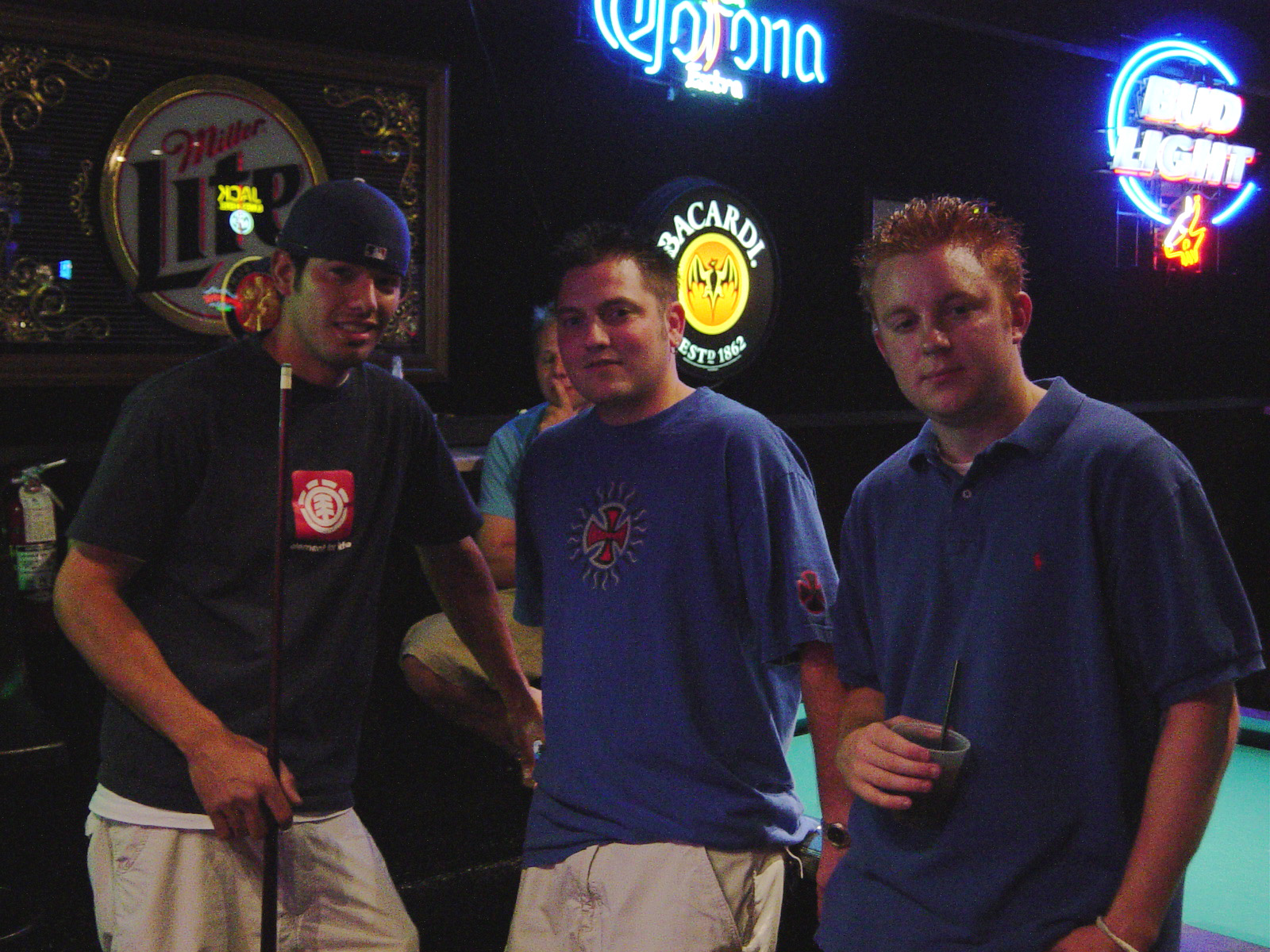 Team BIC
Andy Martinez, Clint Russell & Joe Cornett